Syrian troops attack several towns despite looming cease-fire agreement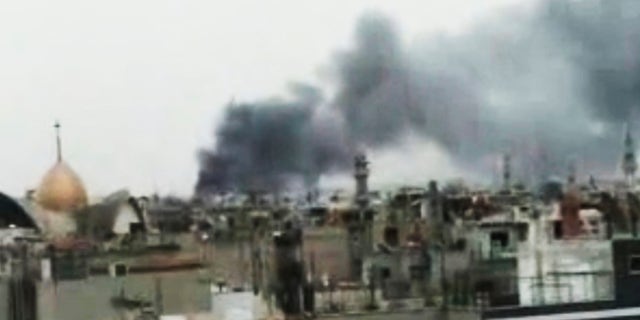 BEIRUT – Syrian troops launched a fierce assault on a Damascus suburb Thursday with activists describing it as one of the most violent attacks since the year-old uprising began.
The attack on the suburb of Douma and other offensives around the country bolster the opposition's claim that President Bashar Assad's is only intensifying violence in the days before a deadline to implement a cease-fire brokered by former U.N. chief Kofi Annan. Activists say Assad wants to make gains on the ground before the truce is supposed to take effect on April 10.
Douma-based activist Mohammed Saeed reported that troops shelled residential areas with tanks "in one of the most violent campaigns against the area since the uprising started." He said troops were using detainees as human shields as they marched into one of the suburb's main squares, a few miles northwest of Damascus.
"Soldiers in the Ghanam Square near the vegetable market were walking behind detainees," Saeed said via Skype. "They do that so that members of the Free Syrian Army do not open fire at the troops."
He said the shelling and clashes have been going on since 7 a.m.
"The regime has no limits in its crimes. They are ready to do anything," said Saeed. "They are hitting homes directly."
The Britain-based Syrian Observatory for Human Rights also reported one of the biggest operations of the uprising in Douma, where army defectors are believed to be active.
Amateur videos posted by activists showed black smoke billowing from residential areas as heavy cracks of gunfire sounded.
Douma, which has witnessed anti-Assad activities since the uprising began, has been subjected to several campaigns by Assad's regime over the past year. The Observatory said troops were sending reinforcements into the suburb, where some residents are feared dead.
Rami-Abdul-Rahman, who heads the Observatory, said the regime appears to be "trying to put Douma under control once and for all." He added that hundreds of army defectors are believed to be in the suburb.
The Observatory for Human Rights said troops also clashed with army defectors in the northern towns of Hraytan and Anadan near Syria's largest city of Aleppo.
The opposition is deeply skeptical that Assad will live up to his commitment to a truce and accuses him of trying to manipulate it to buy more time to continue his military crackdown on the revolt.
The truce is the keystone of a plan put forward by Annan in his role as joint U.N.-Arab League envoy in an effort to end bloodshed that the U.N. says has claimed more than 9,000 lives since March 2011.
The plan requires regime forces to withdraw from towns and cities, followed by a withdrawal by rebel fighters. Then all sides are supposed to hold talks on a political solution.
A Syrian government official claimed Tuesday that troops had begun withdrawing from some calm cities while moving to the outskirts of tense areas. He gave no further details and spoke on condition of anonymity because he was not authorized to talk to the media.
Anti-regime activists deny troops were withdrawing adding that the latest assaults is an evidence that Assad is trying to crush those seeking to overthrow his regime before the cease-fire goes into effect. Activist groups reported more than 50 dead nationwide on Wednesday.
Mohammed Abu Nasr, an activist in Hraytan, said the town of about 50,000 was subjected to intense shelling by tanks and helicopters since 5 a.m. local time. He added that a ground offensive began three hours later and hundreds of troops were pushing their way into the town.
"There are wounded people in the streets that we cannot reach because of the shelling," Abu Nasr said by telephone. "The situation is catastrophic in the city. Large numbers of people are fleeing."
Hraytan is just north of Aleppo, a city that has been relatively quiet since Syria's uprising began in March 2011. Although the city has been quiet, towns and villages in the province have witnessed in the past anti-government protests as well as defections among the army.
An amateur video posted online by activists showed smoke billowing from several areas in Anadan. A narrator said the shelling was taking place Thursday morning. Another video showed Anadan shortly before sunrise. Cracks of heavy gunfire echoed, while prayers could be heard blaring from mosque loudspeakers.
The Observatory later reported that troops were trying to push through Anadan adding that defectors have been so far able to damage three army vehicles and killed and wound soldiers.
As the fighting raged in the north, more Syrians fled to neighboring Turkey where the country's disaster management agency said more than 1,600 refugees arrived on Wednesday and Thursday. That pushes the total number of Syrians who fled to Turkey to nearly 22,000.