Syrian rebels release group of nuns from Greek Orthodox convent held captive since December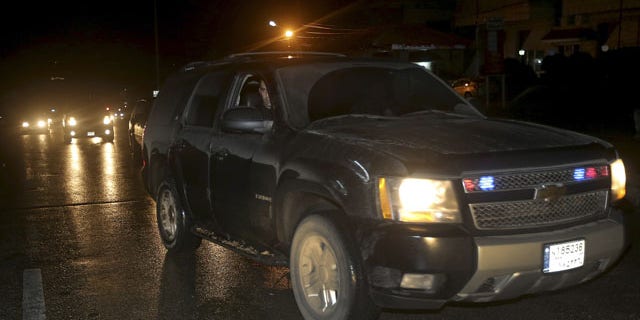 MASNA, Lebanon – Rebels in Syria freed more than a dozen Greek Orthodox nuns on Monday, ending their four-month captivity in exchange for Syrian authorities releasing dozens of female prisoners.
The release of the nuns and their helpers, 16 women in all, is a rare successful prisoner exchange deal between Syrian government authorities and the rebels seeking to overthrow the rule of President Bashar Assad.
But it is unlikely to soothe the fears of many Syrian Christians that their ancient minority is in danger should rebels come to power.
A convoy of 30 cars delivered the nuns to the Syrian town of Jdeidet Yabous, which lies close to the Lebanese border. A photograph published on Lebanon's official news site showed soldiers assisting a middle-aged nun out a vehicle.
"We arrived late, and we arrived tired," said Mother Superior Pelagia Sayaf, the head of the Maaloula convent.
Behind her, women ululated in celebration on footage broadcast on Syrian television. They were then ushered into an honorary guest room by Syrian officials.
Approximately 150 female prisoners are to be released in exchange for the nuns' freedom, said the head of Lebanon's General Security agency, Gen. Abbas Ibrahim, who oversaw the deal, speaking to Syrian television.
Ibrahim said the deal nearly collapsed at the last minute after rebels demanded more prisoners be released.
Syrian rebels, including members of the al-Qaida-linked Nusra Front, seized the 13 nuns and their three helpers from the Mar Takla convent when fighters overran the Christian village of Maaloula, north of Damascus, in December.
Sayaf said the nuns were treated well, although they did not feel comfortable wearing their crosses and crucifixes.
The nuns, who are believed to be mostly Syrian and Lebanese, worked in the convent's orphanage.
"God did not leave us," Sayaf said. "The (Nusra) Front was good to us ... but we took off our crosses because we were in the wrong place to wear them."
The nuns were held for at least part of their captivity in the rebel stronghold of Yabroud near the Lebanese border. Syrian forces are currently waging a campaign to dislodge rebels from the town, which forms part of an opposition supply line into Lebanon and which lies near an important highway.
The nuns' seizure confirmed the fears of many in Syria's minority Christian community that they were being targeted by extremists among rebels. Syria's three-year conflict has become increasingly sectarian.
Syria's chaotic mix of rebel groups is overwhelmingly Sunni Muslim. The country's patchwork of minorities, which includes Christians, Shiite Muslims and a Shiite offshoot, the Alawites, have mostly sided with Assad or remained neutral, fearing for their fate should rebels take power. Assad belongs to the Alawite sect.
Many in Syria's minority groups are concerned about the role of al-Qaida-inspired groups among the rebels. Some militants have vandalized churches and abducted several clerics.
Two bishops were seized in rebel-held areas in April, and an Italian Jesuit priest, Father Paolo Dall'Oglio, went missing in July after traveling to meet militants in Raqqa. None has been heard from since.