Syrian President Bashar al-Assad to visit Kim Jong Un in North Korea, state media says
Syrian President Bashar al-Assad will visit Kim Jong Un in North Korea's capital, the regime's state media announced Sunday, in what would be the first face-to-face meeting between the two leaders.
North Korea's state-run Korean Central News Agency said Assad expressed willingness to visit Pyongyang to meet with Kim on May 30 while receiving the credentials for the North Korean ambassador.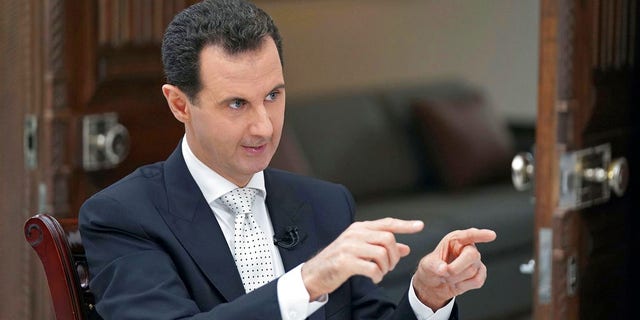 "I am going to visit the DPRK and meet HE Kim Jong Un," Assad was quoted saying, using the acronym "HE" for "His Excellency."
No other details, including when the possible summit may occur, was released.
TRUMP SHOULD DEMAND NORTH KOREAN PLEDGE TO DENUCLEARIZE -- OR WALK AWAY FROM SUMMIT
Assad was also quoted saying he believed Kim would "achieve the final victory and realize the reunification of Korea without fail." KCNA also reported Assad saying the Syrian government would "fully support all policies and measures of the DPRK leadership."
If the meeting occurred, it would be the first summit meeting by a foreign leader in Pyongyang. Kim has never hosted a meeting with any other foreign heads of state in the country's capital.
Assad and Kim seem to have a friendly relationship and are often quoted by KCNA exchanging pleasant remarks and compliments to one another, the Wall Street Journal reported. A United Nations report leaked in February revealed investigators found North Korea was shipping more than 40 items to Syria used for ballistic missile and weapons programs between 2012 and 2017.
NORTH KOREA AND KIM JONG UN: MEET THE KNOWN KEY PLAYERS IN THE REGIME
The announcement comes after President Trump announced the summit between him and Kim was back on for June 12 in Singapore.
North Korea has been pushing for talks with neighbors and allies since the start of the year. Kim recently meeting with South Korean President Moon Jae-in and agreed to denuclearization. The North Korean despot also met with Chinese President Xi Jinping twice in China.
The Associated Press contributed to this report.