Syria summit in Iran may decide Idlib military offensive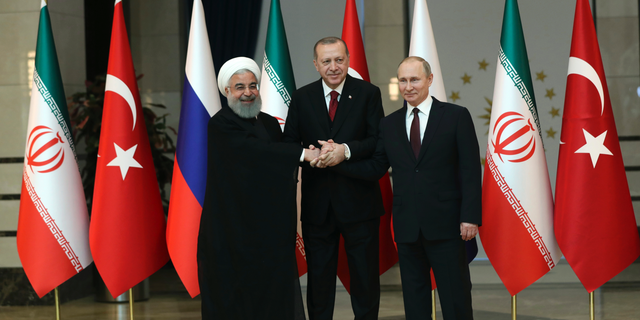 TEHRAN, Iran – The presidents of Iran, Russia and Turkey will meet Friday in Tehran to discuss the war in Syria, with all eyes on a possible military offensive to retake the last rebel-held bastion of Idlib.
The summit between Iranian President Hassan Rouhani, Russian President Vladimir Putin and Turkish President Recep Tayyip Erdogan may determine whether diplomacy halts any military action.
But each nation has its own interests in the yearslong war in Syria.
Iran wants to keep its foothold in the Mediterranean nation neighboring Israel and Lebanon. Turkey, which backed opposition forces against Syrian President Bashar Assad, fears a flood of refugees fleeing a military offensive and destabilizing areas it now holds in Syria. And Russia wants to maintain its regional presence to fill the vacuum left by America's long uncertainty about what it wants in the conflict.
"The Tehran summit can produce peace and reconciliation in Syria or it can deepen the mess created by endless bouts of violence mainly instigated by the Assad regime," Ilnur Cevik, a senior adviser to Erdogan, wrote in the Daily Sabah newspaper.
Northwestern Idlib province and surrounding areas are home to about 3 million people — nearly half of them civilians displaced from other parts of Syria. That also includes an estimated 10,000 hard-core fighters, including al-Qaida-linked militants.
For Russia and Iran, both allies of the Syrian government, retaking Idlib is crucial to complete what they see as a military victory in Syria's civil war after Syrian troops recaptured nearly all other major towns and cities, largely defeating the rebellion against Assad.
A bloody offensive that creates a massive wave of death and displacement, however, runs counter to their narrative that the situation in Syria is normalizing, and could hurt Russia's longer-term efforts to encourage the return of refugees and get Western countries to invest in Syria's postwar reconstruction.
The streets of Tehran were quiet on Friday, the second day of the Iranian weekend. The country's state-run IRNA news agency described the summit as potentially offering an "agreement on peace and security" in Syria.
A former Iranian diplomat, Ali Akbar Farazi, told IRNA the summit shows that solving regional issues "in a fair way that agrees with the interests of all sides" remains important for the three nations.
For Turkey, the stakes couldn't be higher. Turkey already hosts 3.5 million Syrian refugees and has sealed its borders to newcomers. It has also created zones of control in northern Syria and has several hundred troops deployed at 12 observation posts in Idlib. A government assault creates a nightmare scenario of potentially hundreds of thousands of people, including militants, fleeing toward its border and destabilizing towns and cities in northern Syria under its control.
Turkey also doesn't want to see another Kurdish-controlled area rise along its border, as it already faces in northern Iraq.
Cevik, a senior adviser to Erdogan, also didn't pull any punches in his piece in the Daily Sabah, saying: "Assad bolstered by Iran's land assets and Russian air power and his use of chemical weapons has punched his way into opposition strongholds and hence massive gains for the Damascus regime.
"You still need moderate opposition groups who represent the Sunni suffering masses in Syria to achieve a viable political solution and durable peace in this country," he wrote. "Iran and Russia are the fighting forces in Syria and have brought blood and tears."
All three nations face sanctions from the U.S. under the administration of President Donald Trump. While America has some 2,000 troops and outposts in Syria, Trump has said he wants to pull those forces out.
___
Associated Press writers Zeina Karam and Sarah El Deeb in Beirut contributed to this report.