Syria hands over last of declared chemical weapons, watchdog says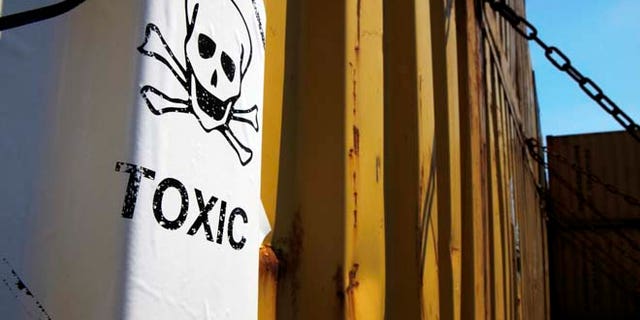 AMSTERDAM – Syria on Monday handed over to Western governments the last of the chemical weapons stockpile that it has acknowledged having, although doubts remain about whether all toxic weapons have truly been removed from the increasingly unstable region.
The milestone comes amid tense days across the Middle East, as Israel carried out strikes Monday on Syria in response to a Syrian attack in the Golan Heights a day earlier, and a Syrian cabinet member warned that Sunni insurgents in neighboring Iraq have been transferring weapons and equipment to rebel allies in Syria.
During a visit to Baghdad, U.S. Secretary of State John Kerry hailed the Syrian handover of the stockpile as a significant step toward diminishing the threat of chemical warfare in the region, but warned that the use of chlorine gas remains a serious issue amid the three-year war in Syria that has claimed an estimated 160,000 lives.
"We are always going to remain truly appalled at the level of death and destruction that continues to consume Syria, notwithstanding the removal of these weapons," he said.
Ahmet Uzumcu, the director general of the Organization for the Prohibition of Chemical Weapons, confirmed Monday that the final 8 percent of Syria's 1,300-ton stockpile -- which included mustard gas and raw materials for making sarin nerve gas -- has been loaded onto a Danish ship in the Syrian port of Latakia before it is destroyed.
He acknowledged that Syria could still be hiding some of its arsenal.
"I can't say ... that Syria doesn't have any chemical weapons anymore," Uzumcu said, while acknowledging that that was true of any country that his organization works with. He said Syria's declared arsenal was close to estimates made by external security analysts and experts before its disarmament process began.
He described the Syrian government's cooperation as "satisfactory."
The government of Syrian President Bashar Assad agreed to surrender its arsenal last fall when the U.S. threatened punitive missile strikes after a chemical attack on a rebel-held suburb of Damascus that is believed to have killed more than a thousand people.
In an interview with The Associated Press, Sigrid Kaag, the head of the joint United Nations-OPCW mission in Syria, said her team's experts "are working closely with the Syrian Republic to look at any discrepancies or any revisions (to Syria's declaration) that need to take place."
Speaking at the mission's staging ground in Cyprus, Kaag acknowledged Monday's removal of the last toxic chemicals came several months behind an initial timeline set out by the U.N., due to security concerns in the region where they were stored.
"The last thing you want of course is when you're dealing with chemical weapons elimination (is), that chemical weapons material falls into the wrong hands," she said.
The Syrian Foreign Ministry said in a statement Monday it had eliminated the chemicals amid difficult circumstances, and credited in part "the initiative of the Russian President Vladimir Putin" to give up the arsenal under the U.N. Security Council supervision. Russia has been Assad's most powerful international backer during the war.
"This significant achievement is further evidence that Syria adheres to its international commitments," the Syrian statement said.
Following a separate investigation last month, an OPCW fact-finding mission found evidence that chlorine gas was used as a weapon in fighting between rebels and Assad's government. But a May 27 attack on that fact-finding mission prevented it from inspecting an alleged site in the village of Kfar Zeita, 125 miles north of Damascus. The OPCW stopped short of saying which side was to blame.
Chlorine is a common industrial chemical and not considered a chemical weapon, though using any toxic material as a weapon is illegal under international law.
Louay Safi, a senior member of the rebel Western-backed Syrian National Coalition, said he was skeptical whether Syria has declared all of its chemical weapons.
"We know that even after Syria signed the chemical weapons agreement it used chlorine," he said.
"For us there will be no confirmation until the inspection team inspects (on the ground). We are waiting for the final report."
The chemicals shipped out of Syria on Monday are being transported to a second ship, the U.S.-owned MV Cape Ray, which is equipped with facilities to render them harmless. The Cape Ray is to arrive next week in Gioia Tauro, Italy, to accept the handover from Danish and Norwegian ships carrying the materials.
Once the chemicals are onboard the Cape Ray, it will move out into international waters, where sophisticated machinery on the ship will be used to make the chemicals inert. Uzumcu said that should occur within 60 days.
"Because they have now been secured by the international community and disposed of by the United States, these weapons will never be used by anybody," said White House press secretary Josh Earnest. "Nobody will be a victim of these weapons and that is an important step."