Syria activists say warplanes slam Damascus suburbs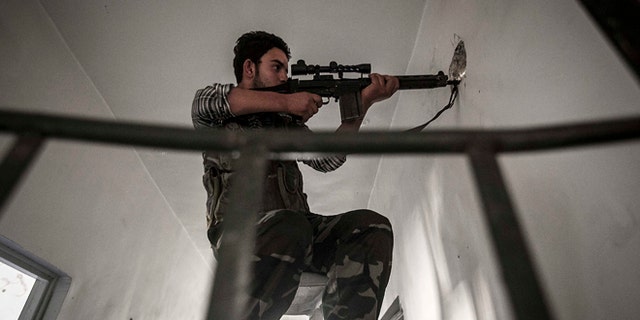 BEIRUT – Syrian warplanes pounded opposition strongholds around Damascus and in the north Wednesday, as President Bashar Assad's forces intensified airstrikes against rebels seeking to topple him, activists said.
The Britain-based Syrian Observatory for Human Rights, which gathers reports from a network of activists on the ground, said government jets carried out five strikes in the eastern Ghouta district, a rebel stronghold close to the capital.
Three airstrikes also hit the rebel-held city of Maaret al-Numan that straddles a key supply route from Damascus to Aleppo, Syria largest city and a main front in the civil war. Maaret al-Numan has been under constant bombardment since it fell to the rebels on Oct. 10.
No casualties were reported in Wednesday's strikes, the Observatory said. However, at least 185 people were killed nationwide in airstrikes and artillery shelling the day before, pushing the total death toll from the relentless fighting in Syria to over 36,000 since March 2011, said Rami Abdul-Rahman, the activist group's president.
At least 47 soldiers were also killed Tuesday, according to the Observatory.
Syria's crisis began as a peaceful uprising against Assad's regime inspired by the Arab Spring but quickly morphed into a bloody civil war.
The international community remains at a loss about how to stop the war and a U.N.-proposed truce last week for a major Muslim holiday failed to take hold. More than 500 people were killed in fighting during what was supposed to be a four-day cease-fire ending Monday.
In China, the U.N.-Arab League envoy to Syria, Lakhdar Brahimi, met Wednesday with China's foreign minister to solicit Beijing's support for international efforts to stop the bloodshed.
The U.S. and other Western and Arab nations have called on Assad to step down, while Russia, China and Iran continue to back him.
In the past weeks, the regime has intensified airstrikes on rebel positions and strongholds. Activists speculate that the government's heavy reliance on air power reflects its inability to roll back rebel gains, especially in the north of the country near the border with Turkey, where rebels have control of swathes of territory.
"The Syrian regime can't do anything on the ground, and that's why they use air strikes," Abdul-Rahman said.
The international community's failure to push for an even modest truce raised fears of a prolonged conflict in Syria that could drag in its neighbors such as Turkey, Lebanon and Jordan.
Turkey's support for the Syrian rebel movement has been a particular point of tension between the former allies. Turkey has reinforced its border and fired into Syria on several occasions recently in response to shells that have landed from Syria inside Turkish territory.
Syria's Foreign Ministry spokesman, Jihad Makdessi, accused Turkey of having "destructive policies" against Damascus and claimed the Turkish foreign minister, Ahmet Davutoglu, was "targeting the security and stability" of Syria.
Makdessi was referring to Tuesday's comments by Davutoglu who expressed "great sadness" that the holiday cease-fire had failed and said his government was done talking to Assad's regime.
The spokesman insisted it was the unwillingness of Turkey and Gulf states to cease supporting the rebels that doomed the truce, the state-run SANA news agency reported late Tuesday.
Damascus views the rebels as terrorists and accuses them of being foot soldiers in a foreign plot to destroy Syria.