Syria 'absolutely rejects' calls for Arab troops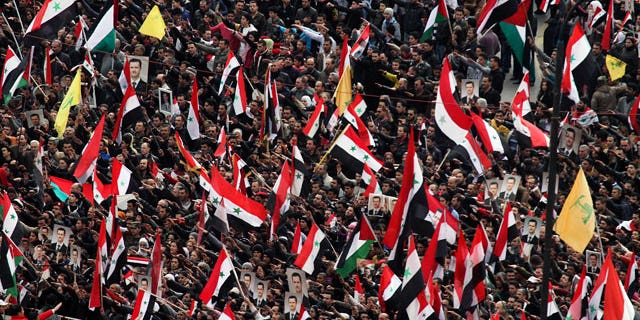 BEIRUT -- Syria "absolutely rejects" any plans to send Arab troops into the country, the Foreign Ministry said Tuesday, even as the death toll mounts from the 10-month-old uprising against President Bashar Assad.
Assad has insisted there be no foreign intervention in Syria. He agreed under heavy regional pressure to admit some Arab League observers, but their effectiveness has been limited.
Activists said at least 18 people died Tuesday, and six Syrian soldiers were killed late Monday near Damascus. The revolt has turned increasingly militarized in recent months, with a growing risk of civil war. The U.N. says about 400 people have been killed in the last three weeks, on top of an earlier estimate of more than 5,000 dead since March.
Syrian activists said most of Tuesday's dead were shot by security forces or pro-regime gunmen.
The reports could not be independently verified.
Attacks also were reported for a fifth day in the Damascus suburb of Zabadani, near the border with Lebanon.
The government rejection of armed intervention followed a remark from the leader of Qatar,Sheik Hamad bin Khalifa Al Thani, who was quoted Sunday as saying Arab troops should be sent to Syria to stop the deadly violence -- the first statements by an Arab leader calling for the deployment of troops inside Syria.
Qatar, which once had close relations with Damascus, has been a harsh critic of the crackdown. Since the wave of Arab uprisings began more than a year ago, Qatar has taken an aggressive role, raising its influence in the region.
"The Syrian people reject any foreign intervention in its affairs, under any title, and would confront any attempt to infringe upon Syria's sovereignty and the integrity of its territories," the Foreign Ministry said in a statement.
The government says terrorists are behind the uprising, not reform-seekers, and that armed gangs are acting out a foreign conspiracy to destabilize the country. The regime says 2,000 members of the security forces have been killed.
Syria agreed last month to an Arab League plan that calls for a halt to the crackdown, the withdrawal of heavy weaponry like tanks from cities, the release of all political prisoners, and allowing foreign journalists and human rights workers in.
About 150 Arab League observers are working in Syria to verify whether the government is abiding by its agreement, and the League said Tuesday another 10 will head into Syria shortly.
So far they appear to have made little impact, and the conflict has reached a bloody stalemate, with both sides refusing to back down.
On Tuesday, the Dutch foreign minister called on Assad's opponents to form a "united, representative and inclusive" opposition to the regime, an indication that the fragmentation of the opposition movements is itself an issue.
Uri Rosenthal also said he would keep pressing for further European Union sanctions and a U.N. Security Council resolution on Syria. He spoke after meeting Burhan Ghalioun, leader of the Syrian National Council, an umbrella group for the opposition.
Ghalioun's visit came a day after Russia circulated a revised Security Council resolution on the violence in Syria. Western diplomats said the draft fell short of their demand for strong condemnation of Assad's crackdown.
The British-based Syrian Observatory for Human Rights said 18 people were killed in Syria on Tuesday, most of them shot dead by troops or pro-government gunmen. The Local Coordination Committees, another activist group, said 24 people were killed, 17 of them in the restive central province of Homs.
It was impossible to resolve the discrepancy or to independently verify the death toll. Syria has banned most foreign corespondents and restricted local coverage, making it impossible to get independent confirmation of the events on the ground.
The state-run news agency, SANA, reported violence targeting security forces and civilians Tuesday, saying a roadside bomb went off near a minibus in the northwestern province of Idlib, killing four and wounding five.
A video posted online by activists showed a minibus with its roof blown out and blood stains on the seats. The narrator blamed security forces for the attack.
Earlier in the day, SANA said that an "armed terrorist group" launched rocket-propelled grenades at an army checkpoint late Monday, killing an officer and five army personnel about six miles southwest of Damascus.