Sweden arrests terror suspect after manhunt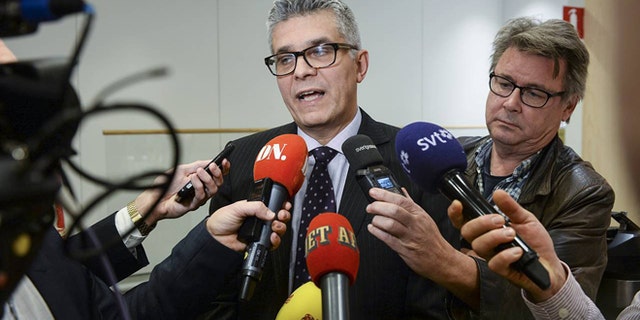 STOCKHOLM – Swedish police late Thursday said they had arrested a man they believe has links to Islamic State and whom they have been hunting since Wednesday on suspicion of planning an attack.
A spokeswoman for the security service, known as SAPO, said the suspect was in custody and the arrest had been carried out "in an orderly fashion." She declined to give the location of the arrest beyond saying it was "somewhere in Sweden."
The subject of the manhunt was Mutar Muthanna Majid, a 25-year-old of Iraqi origin, a person familiar with the investigation told The Wall Street Journal earlier Thursday while the hunt was under way.
Authorities are investigating suspected links between Mr. Majid and Islamic State, the person said. Mr. Majid is believed to have some connection with Sweden, the person added.
Local media carried a grainy picture that had been handed to officers across Sweden to help them identify and apprehend Mr. Majid. It showed a man smiling against a plain background.
SAPO, said late Wednesday it hasn't established any direct link between the suspect and the recent attacks in Paris by Islamic State, which killed at least 129 people.
SAPO hasn't named the suspect and declined to comment on his identity.
The Swedish manhunt has set nerves on edge. It was launched late Wednesday after SAPO received what it called concrete intelligence that an attack was being planned. The agency said it was seeking to detain a man in connection with the investigation, but has declined to provide further information on the case, citing operational reasons.
As a result of the new specific intelligence and against the background of the threat posed to European countries by Islamic State, Sweden raised its rating on the threat to the country Wednesday to four, or "high," from three, or "elevated." The highest level is five, or "very high."
Read more at the Wall Street Journal