Suspected Shooter Who Injured Policeman in LAPD Station Wanted To Be A Cop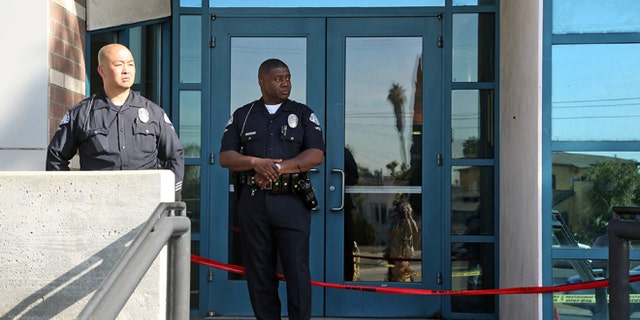 LOS ANGELES (AP) – He was licensed to work as a security guard and to carry a firearm, and Daniel C. Yealu had once applied to become a Los Angeles police officer.
Although his effort to join the Police Department didn't work out, authorities couldn't immediately say if that played any role in the shootout at a Los Angeles police station that Yealu is under arrest for allegedly instigating Monday night.
It was a gun battle that ended with both him and a police officer being hospitalized with multiple bullet wounds.
Yealu's father had said his 29-year-old son told him last year that things were going well in his life. But several pieces of evidence emerged Tuesday indicating that was no longer the case.
Although Yealu had been granted a license to work as a security guard in 2005, it had been canceled for some reason at the end of last year. So was his license to carry a firearm, according to public records. Meanwhile, his application to join the Los Angeles Police Department had been rejected.
"I don't have the dates that he applied, but he was a Police Department applicant and he was not hired," Cmdr. Andrew Smith told the Associated Press on Tuesday.
Police say Yealu arrived at the lobby of the Police Department's West Traffic Division station about 8 p.m. Monday carrying a Glock pistol. They said he walked about 25 feet to the front desk, said "I have a complaint" and opened fire.
A desk officer was hit several times but returned fire in the close-range gunfight that followed. Another officer, who wasn't hit, also fired, and Yealu was hit several times.
The desk officer wasn't wearing a bulletproof vest, but a backup pistol he carried in his left pocket deflected a shot to his leg and may have saved his life, said Police Chief Charlie Beck.
"It is an amazing story that he will be here with us," Beck told a news conference Tuesday. "He was struck twice in the shoulder, he was struck once in the side."
The name of the wounded officer wasn't released but he is a seven-year veteran, Beck said.
Police Commission President Steve Soboroff said the officer was in good spirits and chatting with hospital visitors. Beck said earlier that the officer had spent part of Monday night texting friends on his cell phone from his hospital bed.
"He's got a big smile on his face," Soboroff said Tuesday. "And his mom was there and she had a big smile on her face, and tears in her eyes."
Yealu, who was hospitalized in critical condition, was booked for investigation of attempted murder of a police officer. His bail was set at $2 million.
His 58-year-old father, Danny Yealu, told the Los Angeles Times his son had told him last year that he had applied to a police academy, was making good money as a security guard and had plans to buy a condominium.
He said he saw no warning signs leading up to Monday's shooting, adding he only learned his son had been involved when detectives arrived at his home Tuesday to tell him.
Authorities say Yealu left an AK-47 rifle in his car when he entered the police station. Officers serving a search warrant at his west Los Angeles home Tuesday turned up hundreds of rounds of ammunition, two assault rifles, a shotgun and two handguns.
Had he carried more firepower into the station 7 miles west of downtown, Beck said, many more people might have been hurt. He arrived just as about three dozen people were gathering in another room for a meeting of the Olympic Park Neighborhood Council.
Council member Daphne Brogdon said when gunfire erupted, she dove behind a lectern.
"I hid, and everyone else just hit the ground," she told the Los Angeles Times. "Everyone was trying to be really quiet, and the shots continued."
One of her council colleagues was next to her.
"We were just holding hands," Brogdon said, "looking at each other saying, 'Oh, my God. Oh, my God. Oh, my God.'"
Follow us on twitter.com/foxnewslatino
Like us at facebook.com/foxnewslatino