Suspect in Berlin attack is just the latest Tunisian jihadi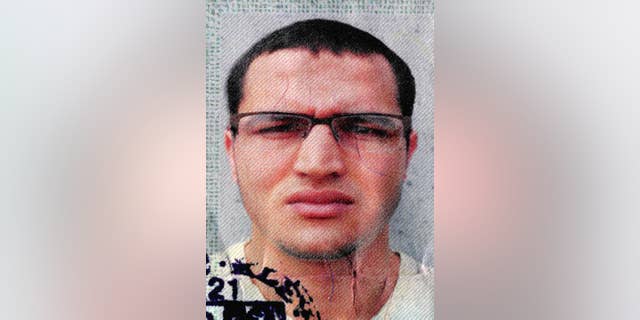 PARIS – The Tunisian now wanted throughout Europe has six aliases, three nationalities — and links to the same brand of Islamic extremism that has drawn at least 6,000 of his countrymen to jihadi networks.
Anis Amri, who turns 24 on Thursday, is in grim company with other Tunisians claimed by the Islamic State group. One of them includes the man who mowed down 86 Bastille Day revelers in the southern French city of Nice last July and another who gunned down tourists on a beach in Tunisia.
At least 6,000 Tunisians have left home to join Islamic State extremists, forming the single largest nationality of foreign fighters for the group. Many trained at IS camps in neighboring Libya. Others made their way to Syria and Iraq.
It's still not known whether Amri had direct links to Islamic State, but the extremist group claimed responsibility for the Monday night truck attack on the Berlin Christmas market that left 12 people dead and 48 injured.
Amri's wallet was found inside the cab of the truck, and German authorities on Wednesday issued a warrant for him, listing three different nationalities and six different names and birthdays that he presumably provided.
His birthdate is officially listed in the warrant as Dec. 22, 1992, according to a version obtained by The Associated Press. In a pair of photos, he has a sparse beard and no mustache.
It's not the first time an attack suspect has discarded identifying documents in a vehicle. The attackers who carried out the 2015 massacre at the Charlie Hebdo newspaper in Paris did so, as did one of the Nov. 13 attackers in Paris and the Tunisian in Nice, Mohamed Lahouaiej Bouhlel. In all of those cases, the attacker was killed.
"It could be to kind of leave a trace and strengthen potential claims of responsibility," Otso Iho, an analyst with IHS Jane's, said of the abandoned ID documents. "It has happened so many times that there's probably some kind of reasoning behind it."
Amarnath Amarasingam, a scholar at George Washington University's program on extremism, says he believes Amri did have ties with the Islamic State group.
"The fact that ISIS took credit for the attack before the attacker was arrested signals to me that he was in direct communication with someone in ISIS," he wrote in an email to the AP. "We can probably expect a video or a statement from the attacker himself fairly soon."