Suit Filed in Case of Texas Teen Wrongly Deported to Colombia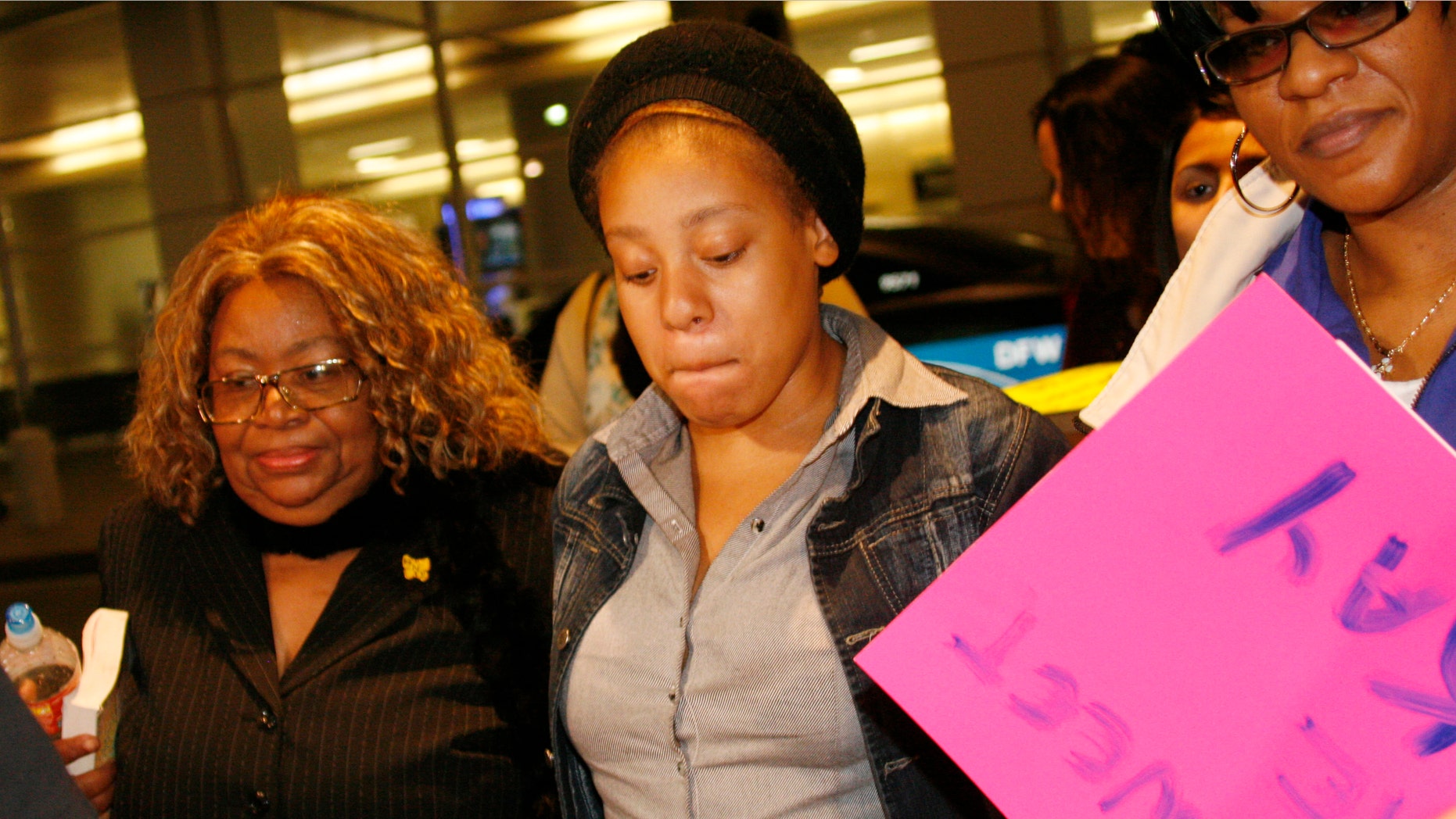 The family of a Texas teenager mistakenly deported to Colombia has filed a lawsuit against federal officials who detained her after she said she was undocumented.
Jakadrien Lorece Turner's family had been critical of federal officials because they didn't do more to verify her identity. She doesn't speak Spanish and has no ties to Colombia.
Her mother, Johnisa Turner, seeks unspecified damages in the federal lawsuit filed Tuesday in Houston.
In April last year, Turner's then-14-year-old daughter was arrested for shoplifting and identified herself to authorities as a 21-year-old Colombian national. Immigration and Customs Enforcement deported the teen. She returned to the U.S. in January after her grandmother and Dallas police tracked her down.
Among defendants in the lawsuit are Attorney General Eric Holder and Homeland Security Secretary Janet Napolitano.
Federal officials have said they followed procedures and that the girl did nothing to indicate she is a U.S. citizen.
Immigration experts have said that while cases of mistaken identity are rare, people can slip through the cracks, especially if they don't have legal help or family members working on their behalf. But they say U.S. immigration authorities had the responsibility to determine if a person is a citizen.
"Often in these situations they have these group hearings where they tell everybody you're going to be deported," said Jacqueline Stevens, a political science professor at Northwestern University, who is an expert on immigration issues. "Everything is really quick, even if you understand English you wouldn't understand what is going on. If she were in that situation as a 14-year-old she would be herded through like cattle and not have a chance to talk to the judge about her situation."
Jakadrien's saga began when the teen ran away. Jakadrien's family said she left home in November 2010. Houston police said the girl was arrested on April 2, 2011, for misdemeanor theft in that city and claimed to be Tika Lanay Cortez, a Colombian woman born in 1990. It was unclear if she has been living under that name.
Houston police said in a statement that her name was run through a database to determine if she was wanted by Immigration and Customs Enforcement but the results were negative. She was then turned over to the Harris County jail and booked on the theft charge.
The county sheriff's office said it ran her through the available databases and did the interviews necessary to establish her identity and immigration status in the country, with negative results. A sheriff's office employee recommended that an immigration detainer be put on her, and upon her release from jail she was turned over to ICE.
U.S. immigration officials insist they followed procedure and found nothing to indicate that the girl wasn't a Colombian woman living illegally in the country.
An ICE official said the teen claimed to be Cortez throughout the criminal proceedings in Houston and the ensuing deportation process, in which an immigration judge ultimately ordered her back to Colombia.
Standard procedure before any deportation is to coordinate with the other country in order to establish that person is from there, the ICE official said.
Based on reporting by The Associated Press.
Follow us on twitter.com/foxnewslatino
Like us at facebook.com/foxnewslatino