Suicide bomber kills 32 at Baghdad funeral march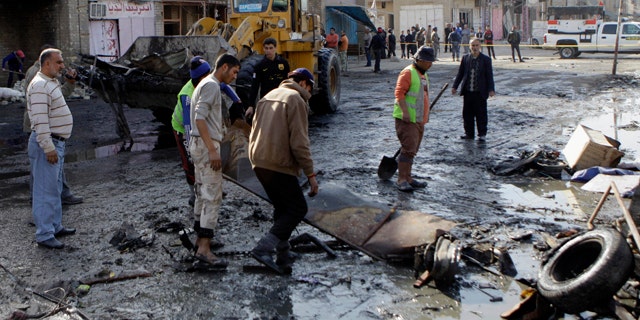 BAGHDAD – A suicide bomber detonated an explosives-packed car near a funeral procession in southeastern Baghdad on Friday, killing at least 32 people -- half of them policemen who were guarding the march -- in the latest brazen attack since the U.S. troop withdrawal from Iraq.
Police officials said the blast occurred at 11:00 a.m. in the predominantly Shiite neighborhood of Zafaraniyah, where mourners had gathered for the funeral of a person killed the day before. They said 65 people were wounded in the attack, including 16 policemen.
Hospital officials confirmed the death toll.
Salam Hussein, a 42-year-old grocery store owner in Zafaraniyah said he was watching the funeral procession, which was heavily guarded by police, when the blast blew out his store windows and injured one of his workers.
"It was a huge explosion," Hussein said. As he took his worker to the hospital, Hussein said he saw cars engulfed in flames, "human flesh scattered around and several mutilated bodies in a pool of blood" around where the attacker's car had exploded.
Zafaraniyah resident Talib Bashir, 50, said he was part of the procession of about 500 men but left the group to take his child home when he heard the blast.
"I saw smoke coming from a parked car that had exploded," Bashir said, adding that police and civilians cars, an ambulance van and several stores were engulfed in flames hours after the blast. "The fire lasted for a long time," Bashir said.
Minutes after the blast, gunmen opened fire at a checkpoint in Zafaraniyah, killing two policemen, according to police officials. All officials spoke on condition of anonymity because they were not authorized to speak to the media.
Across Iraq, at least 200 people have been killed in a wave of attacks by suspected insurgents since the beginning of the year, raising concerns that the surge in violence and an escalating political crisis might deteriorate into a civil war, just weeks after the U.S. military withdrawal.
Most of the dead have been Shiite pilgrims and members of the Iraqi security forces.
There was no immediate claim of responsibility for Friday's attack.
Since the United States completed its pullout last month, militant groups -- mainly al-Qaida in Iraq -- have stepped up attacks targeting the country's majority Shiites to undermine confidence in the Shiite-led government and its efforts to protect people without American backup.
On Thursday, 17 people died in bombings around the country, including seven people in attacks on Baghdad's s two predominantly Sunni districts, suggesting that Shiite militants could be retaliating amid fears of a reignited sectarian conflict in the war-ravaged country.
Friday's blast is the second deadliest single attack in Iraq this month.
At least 53 people were killed Jan. 14, when a bomb tore through a procession of Shiite pilgrims heading toward a largely Sunni town in southern Iraq. The attack suggested a renewed power struggle between rival Muslim sects amid an escalating sectarian crisis in the Shiite-led government.
The last U.S. soldiers left the country Dec. 18.