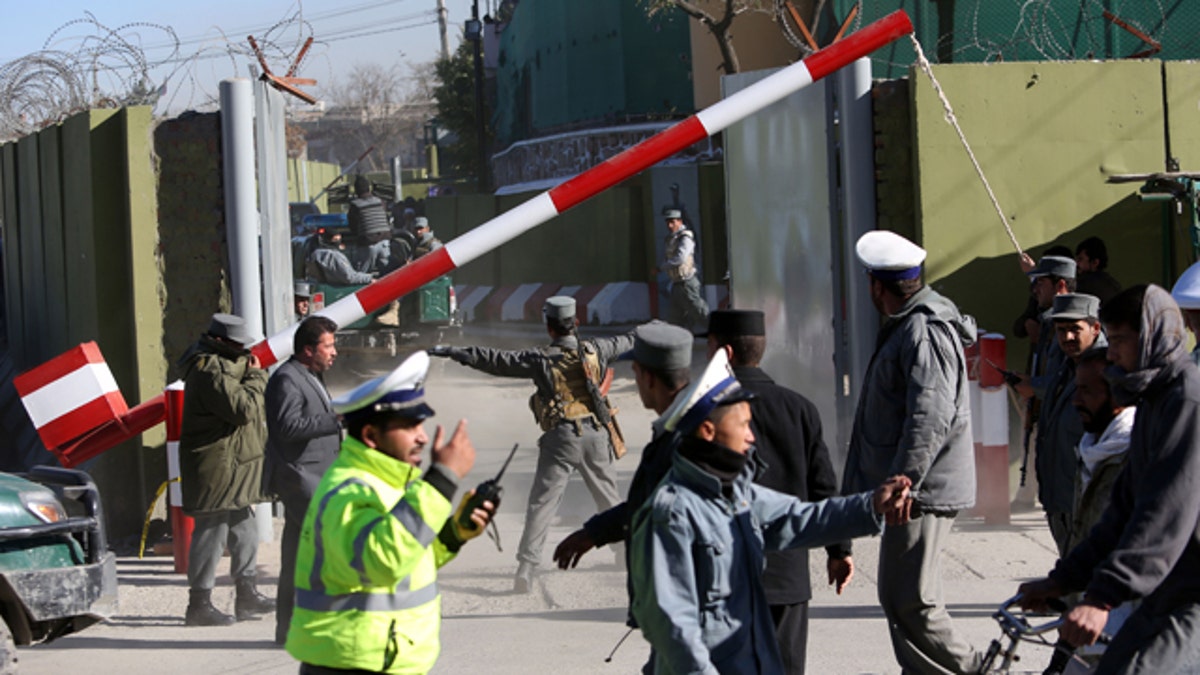 A suicide bomber infiltrated police headquarters in the Afghan capital Kabul on Sunday morning and blew himself up in an apparent attempt to assassinate the city's police chief, killing one senior police officer and wounding at least seven others, officials said.
The ability of the bomber to penetrate the heavily guarded police compound in the heart of the capital adds to concerns about the readiness of national security forces to combat a still-virulent Taliban insurgency as a dwindling number of U.S. and NATO troops shift to a training and support role by the end of this year.
It will also likely revive fears that the security forces have been infiltrated by insurgents, following a series of attacks on coalition forces by rogue members of the army and police.
Kabul's chief of police Gen, Mohammad Zahir Zahir said that the attacker was just meters from his office when he detonated an explosives-packed vest.
"A suicide bomber in military uniform carried out the attack on the third floor of the building, where my office is located," General Mohammad Zahir Zahir told the Associated Press by telephone.
"Unfortunately as a result of this attack, a police officer who was a director of my office was killed and at least six other police officers are wounded," he said. The Health Ministry later said seven people were wounded, including a small child.
The attack took place at 9 a.m. (11:30 p.m. Eastern Saturday) when the compound was crowded with people arriving for work.
The compound is in one of the most heavily fortified areas of Kabul and also houses the office of the Kabul provincial governor, the Appeals Court and police detention centers for men and women.
It is surrounded by high concrete blast walls, with turrets manned by paramilitary police armed with Russian-made PK heavy machine guns. Visitors must past through a number of checkpoints, including body searches and x-rays, before reaching the main buildings.
Insurgents have intensified attacks on the Afghan capital in the past year, coinciding with a drawn-out presidential election and the inauguration in September of President Ashraf Ghani.
The explosion came about two hours after another blast was heard in the city. Defense Ministry spokesman Gen. Mohammad Zahair Azimi said that explosion was an attack on an Afghan army vehicle that resulted in no casualties.
Taliban insurgents claimed responsibility for both attacks.
Abdul Jabar Taqwa, the Kabul provincial governor, said windows across the compound were shattered by the blast at the police headquarters. "I was in my office in the building opposite the Kabul police chief's building when the explosion happened. It was a strong blast and shattered all the windows in my office," he said.
Kaneshka Baktash Turkistani, spokesman for the Health Ministry, said the wounded included a small child. The dead police officer was identified as Col. Mohammad Yasin, the chief of staff for the Kabul police chief.