Sudan frees opposition figure over 2004 coup plot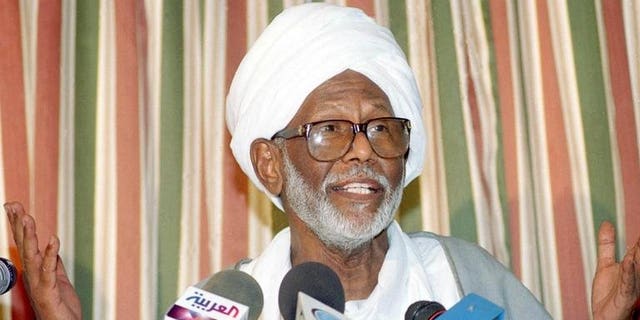 KHARTOUM (AFP) – A senior Sudanese opposition figure jailed in connection with an alleged coup attempt nine years ago has been released, his party said on Tuesday.
Yousef Mohammed Saleh Lebis of the Popular Congress Party, which is led by Sudan's veteran Islamist Hassan al-Turabi, walked free on Sunday, said Kamal Omar, the party's political bureau head.
He told AFP that the initiative to free Lebis came from Darfuri members of the ruling National Congress Party.
Four other Popular Congress members jailed for alleged subversion also in 2004 were let out of jail in April under an amnesty for political prisoners.
President Omar al-Bashir announced the pardons as part of a broad political dialogue "which will bring a solution to all the issues."
His regime, which itself seized power in a 1989 Islamist-backed coup, has faced worsening unrest this year by armed Arab groups formerly allied to it in the Darfur region of western Sudan, where anti-government rebels have also been fighting for 10 years.
The Darfur insurgents are allied with others in South Kordofan and Blue Nile states in a bid to topple the government.
At the same time, the NCP regime has been grappling with a troubled economy since South Sudan separated with most of the country's oil production in 2011.
Arab Spring-inspired demonstrations broke out around the country last year but failed to gain momentum and fizzled out in a security clampdown.
Turabi was a leading figure behind Sudan's 1989 coup but fell out with Bashir about a decade later.
The government arrested Turabi in March 2004 over allegations of a coup attempt by sympathisers of the Darfur rebels.
Later that year, the regime reportedly rounded up almost 200 people after it claimed Turabi's supporters masterminded another plot.
Omar called the release of Lebis "a positive thing" but said it does not change his party's position. It belongs to an alliance of opposition parties seeking a peaceful end to the government.
Omar said there have been no negotiations between his party and the ruling National Congress.
As the government seeks dialogue with its political opponents there are expectations of a cabinet shuffle.
"It has happened so many times, 10, 20 times but what is the benefit out of that?" asked Yasir Yahia Salih, acting president of the opposition Justice Party.
"Ministers, to us, all of them are the same," Salih told AFP in an interview.
He said the government has failed to provide security, health or education for the people and should step aside "quietly and politely."