Strauss-Kahn, French Accuser Meet Face-to-Face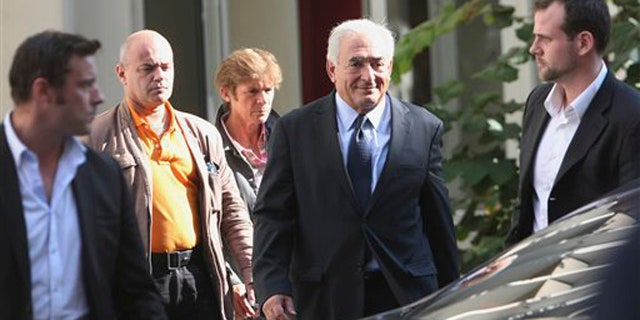 PARIS – Dominique Strauss-Kahn has met in a face-to-face confrontation with a Frenchwoman who says he tried to rape her, but the woman claimed he refused to apologize or even look at her during the session with investigators.
Investigators questioned the former International Monetary Fund chief and Tristane Banon on Thursday to help them decide whether to pursue charges of attempted rape brought by the 32-year-old woman.
Banon claims that Strauss-Kahn attacked her during an interview for a book in 2003. Strauss-Kahn calls the claims imaginary and slanderous. Banon said in an interview with TF1 TV station that "he kept repeating it's imaginary."
She said that Strauss-Kahn emanated "arrogance" and "coldness" during the meeting.
"I thought he would excuse himself. He didn't even look at me," Banon said.
Still, she said the meeting was a "first victory" for her.
Strauss-Kahn made his only public appearance since returning to France less than two weeks ago on the same show, and he has not made himself available to reporters since.
Banon requested the one-on-one meeting, which is sometimes used in France to help officials decide if a case is worth pursuing, with Strauss-Kahn.
The two did not speak to reporters as they arrived separately at the police facility and refused comment when they left.
Strauss-Kahn quit as IMF head and saw his chances for the French presidency evaporate after a New York hotel maid accused him of attempted rape in May.
The U.S. case was later dropped amid questions about the maid's credibility, but the maid, Nafissatou Diallo, has filed a civil suit. Strauss-Kahn claimed Monday he has diplomatic immunity and asked a New York court to dismiss the lawsuit.
French accuser Banon repeated her intention to do likewise if Paris prosecutors decide not to go forward with a criminal case against him.
One challenge for Banon's case, which was filed after Strauss-Kahn's May arrest in New York, is that the incident in question happened eight years ago.
Banon has said that Strauss-Kahn invited her to an empty apartment for the book interview, and they ended up tussling on the floor, with the politician trying to open her jeans and bra and putting his fingers in her mouth and underwear.
Banon has defended her decision not to file charges against Strauss-Kahn at the time of the alleged incident. In 2003, she was 23 years old and Strauss-Kahn was an eminence grise of France's Socialist party.
In the TV interview, she dismissed as irrelevant the time-lapse in her decision to take Strauss-Kahn to court.
"How do I prove he had the intention to rape me" be it 8 and a half hours after the incident, 8 and a half days, or 8 and a half years, she asked rhetorically. Material proof doesn't always exist and it's the intention of the alleged attacker that counts, she insisted.
"There was a rape attempt. I maintain that."
Asked if she hates Strauss-Kahn, she responded, "No, I disdain him. I disdain him as much as he disdains me."
The Associated Press does not generally name accusers in sexual assault cases unless they agree to be named or identify themselves publicly, as Banon and Diallo have done.