State TV woes part of broader Greek media chaos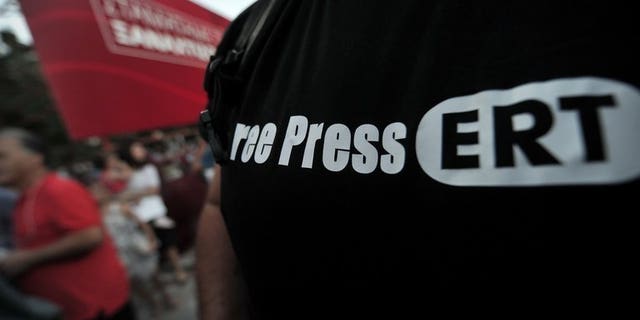 ATHENS (AFP) – As debate swirls in Greece over the future of public broadcasting, analysts say the abrupt shutdown of state broadcaster ERT is only the latest problem to hit Greece's chaotic media scene.
The conservative-led government of Prime Minister Antonis Samaras took ERT off the air on June 11, citing endemic mismanagement at the state broadcaster's five channels and 24 radio stations that the recession-hit country can no longer afford.
ERT was "a crooked structure with crooked foundations", the government said in a decision that sparked uproar in Greece and abroad.
The dispute nearly sundered Samaras' government, with the moderate leftist party in the three-party coalition bolting on Friday and the conservative PM left to govern alongside the socialists with a majority of just three deputies in parliament.
But media observers note that the framework under which private channels have operated for over two decades is hardly better, since it enables the state to exert control over how the news is broadcast and cut deals with media owners.
"The status of private television and radio stations has been in limbo for the past 24 years," said Stelios Papathanassopoulos, a professor of media organisation and policy at the University of Athens.
Under a 1998 law, stations are granted provisional licenses from the Greek telecommunications commission EETT and the Greek National Council for Radio and Television, the broadcast standards watchdog.
Until a permanent permit is issued, stations have their permits renewed by the state, making them dependent on government goodwill if they want to continue to broadcast.
"Essentially, private broadcasters are held hostage by each and every government," Papathanassopoulos told AFP.
"Temporary licenses enable the state to maintain a hold on information and engage in blackmail and patronage," he said.
Currently, there are nearly a dozen private TV stations and several more private radio stations for a country of 11 million.
The media sector as a whole -- where most jobs are relatively poorly paid -- was hit hard by the 2009 Greek debt crisis.
Two dailies shut down, other newspapers cut back to weekly editions and one of the main private channels, Alter, stopped broadcasting in 2011. Thousands of journalists lost their jobs.
In contrast, and until June 11, state ERT was considered a paragon of job security -- although it came with outright government interference.
Last year, two prominent talk show hosts were yanked off the air after criticising Citizen Protection Minister Nikos Dendias.
ERT was "under direct state control" and "a field for political party jockeying", said Persa Zeri, a professor of political communication at Athens' Panteion University.
The state broadcaster "became a corrupt institution", Zeri said.
ERT's transformation into a haven of nepotism for successive governments reflects the broader state attitude towards Greek media, she said.
"There is no respect for (the nation's) right to a public broadcaster that will serve the public interest, no respect for pluralism," Zeri said.
"The political class uses both the public and private sector in Greece for its own ends," she said.
Media rights group Reporters Without Borders has alleged conflicts of interest in the top management of a number of media outlets, saying that wealthy shipowners, media moguls and state officials have all sought to impose their will.
Media insiders note that the very official who spearheaded the closure of ERT, government spokesman Simos Kedikoglou, himself worked for the station nearly two decades ago when his father was a socialist minister.
Kedikoglou counters that he was a contract worker like many other poorly paid ERT staff.
The shutdown saw all of ERT's TV channels and radio stations taken off the air, while the local digital signals of the BBC, TV5 and Deutsche Welle, which were riding on ERT-owned frequencies, were blocked.
The move sparked condemnation from international media groups and alarm among some of Greece's partners in the European Union.
ERT's demise also caused a rift in the government coalition, with Samaras accused of acting without the consent of his partners.
The government has pledged to compensate ERT's some 2,700 employees and said it would set up a new public broadcaster before the summer's end with a trimmed-down staff.
Most of all, said Zeri, the new broadcaster will need "autonomous administration" if it wants to last.