Sri Lanka's ruling party wins provincial election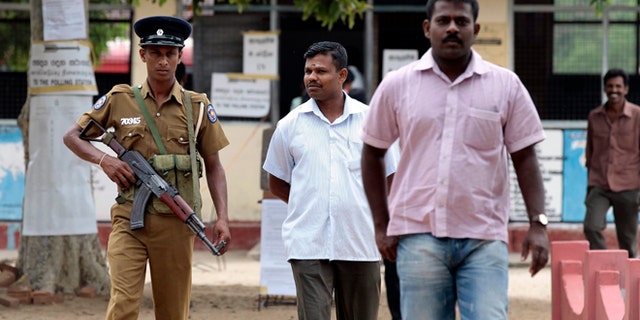 NEWYou can now listen to Fox News articles!
BATTICALOA, Sri Lanka – Sri Lanka's ruling party has defeated the country's main ethnic Tamil party in a provincial election seen as a test of whether Tamils still want self-rule or are satisfied with government-led development programs in a region devastated by decades of civil war.
President Mahinda Rajapaksa's United People's Freedom Alliance won 14 seats in the Eastern Provincial Council, while the Tamil National Alliance secured 11, the Department of Elections said Sunday.
Though it did not win enough seats in Saturday's election to form a single-party government, the UPFA may get the support of a Muslim party, a centrist alliance partner that secured seven seats, to muster a majority in the 37-member council.
The defeat will be seen as a setback for the TNA, which was hoping that a victory would be seen as a mandate for more power-sharing in Sri Lanka's Tamil-majority areas. The TNA has sought a form of federalism, but talks with the central government have been stalled since January. The ethnic Sinhalese-controlled government, meanwhile, was looking to use an election victory to show that Tamils are content with postwar development.
Tamil politicians have long claimed that Eastern Province is part of a Tamil homeland, along with Northern Province. However, unlike northern Sri Lanka, where Tamils are an overwhelming majority, the east has near-equal numbers of the South Asian island nation's main ethnic groups -- Sinhalese, Tamils and Muslims. Tamils complain that successive governments since independence from Britain in 1948 have sponsored Sinhalese settlements with the aim of changing Eastern Province's demography and weakening the Tamils' claim to it.
Tamil Tiger rebels fought a quarter-century civil war to create an independent Tamil state in a merged north and east. The war ended in May 2009 when government forces defeated the rebels.
Since then, the government has rebuilt a number of roads and bridges in Eastern Province, connecting it better with the rest of the country. It also has started a domestic airport project and promotes tourism in the province's long stretches of beaches.