Spanish Protesters Flood Back to Madrid Square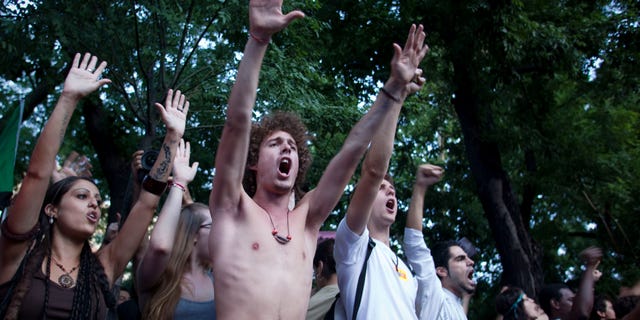 MADRID -- Thousands of demonstrators angry about the government's austerity program briefly reoccupied a central Madrid plaza on Saturday after police withdrew following widespread outrage at officers' handling of a protest two days earlier.
About 5,000 protesters flooded back to "reclaim" Sol square in the early hours of Saturday, but later left peacefully, allowing cleaning teams to ready the square for weekend shopping and tourism.
During the impromptu gathering hundreds chanted "Sol shone tonight." Sol means "sun" in Spanish.
Clashes between police and protesters on Thursday left seven officers and 13 protesters injured, and four people, including one journalist, detained overnight.
The journalist, Gorka Ramos, had been covering the protests live through Twitter for his online news site, lainformacion.com.
The news site said some reports had accused Ramos of spitting at and assaulting officers. But the news site released a statement Saturday, saying that "in a video that was released on all media it can be seen that riot police surrounded Ramos, forced him to the ground and kicked him while he tried to explain that all he was doing was his job."
The demonstrators were upset that police had for four days prevented them from re-erecting a camp in Sol where they had held protests since May.
Several hundred people gathered for sympathy protests in at least seven other cities, including a 500-strong demonstration in Barcelona's main Plaza de Catalunya.
Before police withdrew, some of the protesters injured during Thursday's clashes returned to the barriers manned by officers to plead with them to allow access to Sol. One protester with a bandaged right hand tried to offer an officer a flower but had to make do with exchanging a handshake instead.
Protest organizers said in a statement on their website that they planned to hold another gathering at Sol late on Saturday and hoped to "carry on working" in the square but "without pitching tents or setting up a camp."
Many business owners in and around Sol have criticized the continuing protest in the downtown square, saying it is bad for business because customers are put off by the large crowds.
Spain is struggling to recover from nearly two years of recession triggered in large part by the collapse of an overheated real estate sector. The jobless rate stands at nearly 21 percent, the highest in the 17-nation eurozone, while joblessness for those aged 16 to 29 stands at around 35 percent.