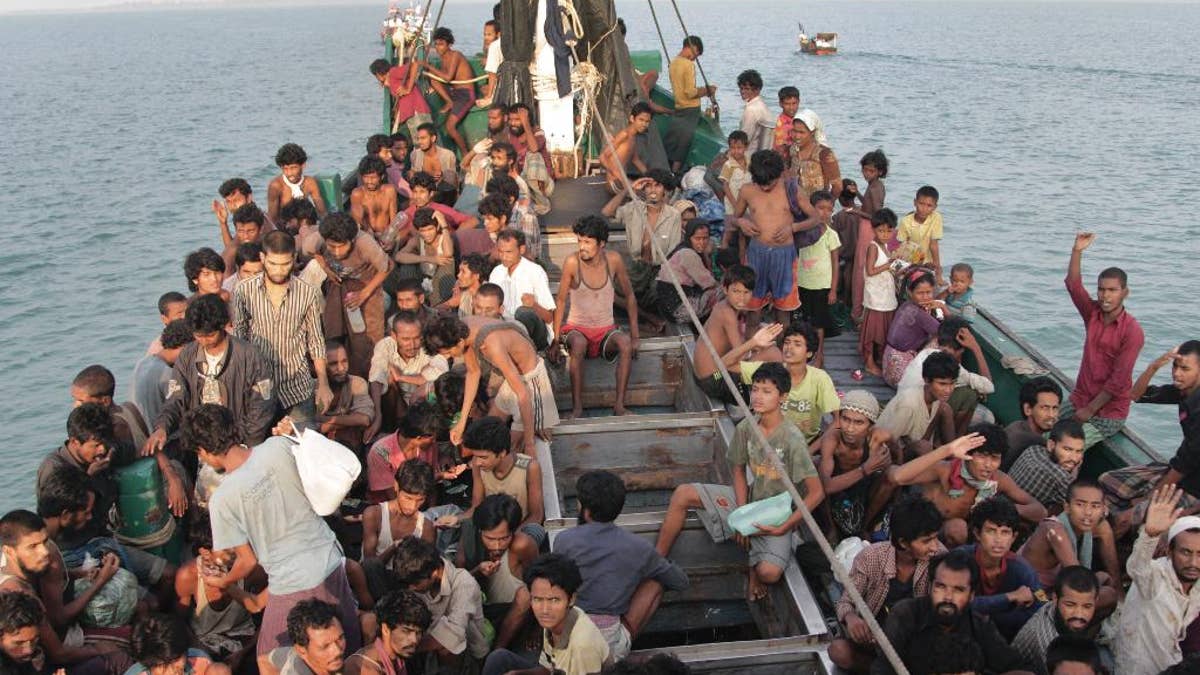 BANGKOK – The decision by Indonesia and Malaysia to give temporary shelter to thousands of migrants stranded at sea appears to have defused a potential Southeast Asian humanitarian catastrophe, but the root causes of the crisis remain. Here's a look at still-unanswered questions surrounding the Rohingya Muslim migrants who are persecuted at home in Myanmar and have found scant welcome anywhere else.
___
A FIRST STEP, BUT WHAT'S NEXT?
The Indonesian-Malaysian offer to shelter migrants for up to a year was hailed as a breakthrough, and marks a major reversal after navies from the two countries and Thailand pushed boatloads of desperate migrants away. But it is just the first of many steps needed to solve the crisis. Groups such as the International Organization of Migration say time is running out for vessels still at sea and call for countries to urgently launch operations to find and rescue drifting boats believed to be crammed with people in need of food, water and medical treatment.
___
HOW MANY MIGRANTS ARE THERE?
Nobody knows, but the U.N. refugee agency UNHCR estimated as of Thursday that more than 3,000 could still be at sea.
"Having said that, there could be more that we don't know about," Bangkok-based UNHCR spokeswoman Vivian Tan said.
When the crisis first came to international attention early this month, aid agencies estimated 6,000 or more migrants were abandoned on boats after a regional crackdown on human trafficking prompted smugglers to flee. Since then more than 3,000 ethnic Rohingya Muslims and Bangladeshis have landed in Indonesia, Malaysia and Thailand.
___
HOW MANY BOATS ARE AT SEA?
This is another mystery. Malaysian Prime Minister Najib Razak tweeted Thursday that he had ordered the navy and coast guard to comb the sea to look for stranded migrants, becoming the first country to announce it will actively search for refugees instead of waiting for them to wash up on the region's shores. But he offered no details, and it was unclear when the search would begin and how many boats would be involved. Thailand and Indonesia have not announced any similar operations to search their sections of the Andaman Sea. The countries have also expressed concerns that offering temporary shelter could encourage an exodus of even more refugees.
___
WHAT HAPPENS IN A YEAR?
Malaysia and Indonesia have made clear that their offer to house migrants is temporary. Both said their hospitality expires in one year. It is unclear what happens after that. Indonesian Vice President Jusuf Kalla said his government is ready to shelter Rohingya refugees who fled Myanmar, while Bangladeshis would be sent back home. "A year is (the) maximum," he said. "There should be international cooperation." Malaysia has set the same time limit, saying in a joint statement that the international community must take responsibility for repatriating or resettling the migrants in third countries within that period.
___
"THE ROOT CAUSE" AND THE R-WORD
Southeast Asian governments say the key to solving the migrant crisis is addressing the "the root cause" — which is code for Myanmar. The Rohingya Muslim minority has been boarding rickety boats to escape Myanmar for years due to state-sanctioned discrimination in the predominantly Buddhist country where they are openly despised. They are denied citizenship, have limited access to education and medical care and cannot practice their religion freely. The Rohingya have faced repeated outbreaks of violence, the latest of which have been occurring since 2012, with hundreds killed and 140,000 displaced. So they try to flee abroad, most hoping to reach Muslim-majority Malaysia in search of jobs and security. Myanmar has said it does not want to be blamed for the problem but agreed Thursday to join regional talks on the crisis to be held in Bangkok next week. Observers are eager to see how the countries will discuss the issue, given the Myanmar government's distaste for the word "Rohingya," which is taboo in Myanmar, where they are referred to as Bengalis — migrants from neighboring Bangladesh — even though many have lived in Myanmar for generations.