South Sudan: U.S. Marines Dispatched From Spain To Protect U.S. Diplomats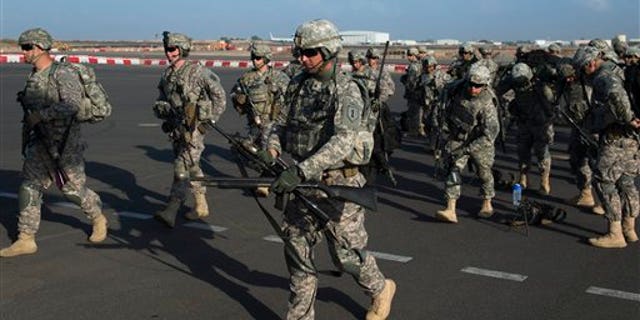 WASHINGTON (AP) – The U.S. has moved additional Marines and aircraft from Spain to the Horn of Africa to provide embassy security and help with evacuations from violence-wracked South Sudan.
Army Col. Steve Warren, a Pentagon spokesman, said Monday that the commander in Africa is getting the forces ready for any request that may come from the U.S. State Department.
The military moves come as the U.S. continued intense diplomatic efforts to calm the roiling ethnic violence, including holding a meeting Monday between the U.S. special envoy for South Sudan, Donald Booth, and South Sudan President Salva Kiir.
A senior U.S. official said both Kiir and former South Sudan Vice President Riek Machar said they were willing to talk to each other and that their stated commitments indicated that there is a "good possibility of getting them together." But, the official said that a lot of details, including the time, venue and circumstances of such a meeting as well as the specifics of what they would discuss, still need to be determined.
Kiir, an ethnic Dinka, has said that an attempted military coup triggered the violence and that Machar, an ethnic Nuer, has been blamed for it.
On Monday, Booth said that he had a "frank and open discussion" with Kiir and that Kiir said he "was ready to begin talks with Riek Machar" as soon as possible.
While the diplomatic efforts go on, the Pentagon has been shifting troops around in the region in order to make them more readily available if needed.
A defense official said the extra forces moved to Djibouti will bring the total U.S. troops in the region to 150, with 10 aircraft, including Osprey helicopters and C-130 transport planes. Of those forces, about 45 U.S. Army troops are in South Sudan providing security. The remainder are in Djibouti, where the U.S. maintains its only permanent military base in Africa.
The U.S. and defense officials were not authorized to speak publicly so spoke on condition of anonymity.
Troops deployed last week helped evacuate Americans and other foreign nationals and provided security at the U.S. Embassy in Juba. Another couple hundred Americans remain in the country, the official said.
Three of the four U.S. troops injured Saturday when gunfire hit evacuation aircraft are stable and being sent to the military hospital in Germany, Warren said, while the fourth continues to get treatment in Nairobi, in neighboring Kenya. The four U.S. Navy SEALS were all wounded in the lower body by small arms fire.
Rebel forces fired on the three military aircraft in Bar on Saturday, forcing the Ospreys — advanced helicopter-airplane hybrids — to abort their evacuation mission. On Sunday the U.S. evacuated Americans by civilian U.S. and U.N. helicopters.
The U.S. over the last week has evacuated 380 Americans and 300 others from South Sudan, which has seen vicious, ethnically targeted violence pulse through the nation.