South Sudan government agrees to end hostilities after deadly violence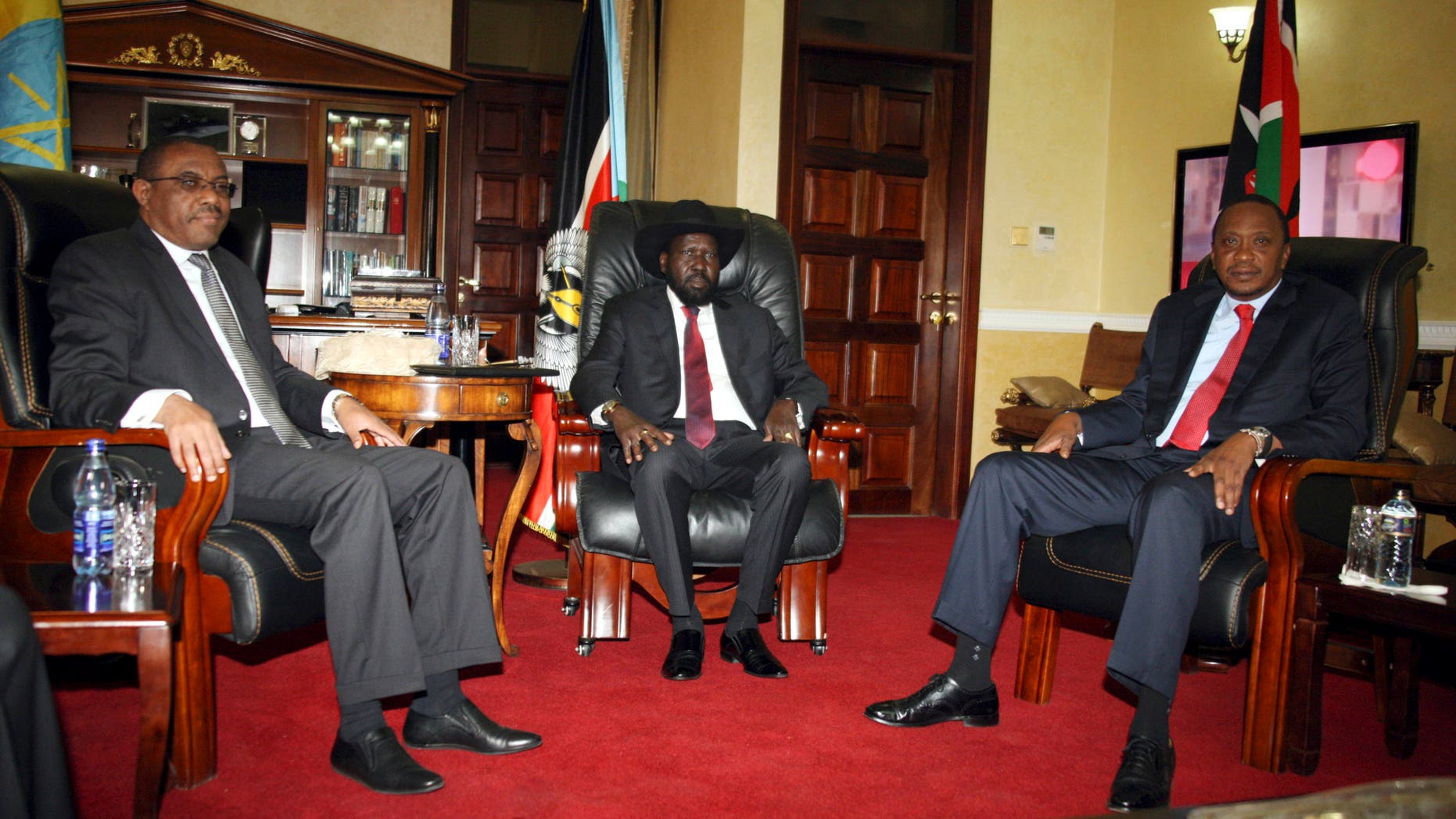 NAIROBI, Kenya – South Sudan's government on Friday agreed to end hostilities, regional leaders said at the end of a crisis summit, raising hopes for a potential breakthrough in efforts to cease violence that has displaced more than 120,000 people in the world's newest country.
East African leaders meeting in Kenya under a bloc called IGAD said in a statement Friday that they "welcomed the commitment by (South Sudan's government) to an immediate cessation of hostilities."
But former Vice President Riek Machar, Kiir's political rival who is accused of orchestrating a failed coup that the government says sparked unrest across the oil-producing country, was not represented at the summit in the Kenyan capital of Nairobi.
Machar, the leaders' joint statement said, is urged to "make similar commitments" to end hostilities.
IGAD said it opposes a violent change of government in South Sudan and urged Kiir and his rivals to start peace talks before the end of 2013.
In a speech at the summit, Kenyan President Uhuru Kenyatta had noted that there is "a very small window of opportunity to secure peace" in South Sudan, where fighting since Dec. 15 has raised fears of full-blown civil war.
South Sudan peacefully broke away from Sudan in 2011 after decades of a brutal war of independence fought against Sudan. The young country has been plagued by corruption, ethnic tension, and a power struggle within the ruling party that pits Kiir against Machar.
Machar, the alleged leader of renegade forces now in control of some parts of South Sudan, remains a fugitive wanted by the military. At least 10 of his political allies are in detention for their roles in the alleged coup plot. Machar denies there was a coup attempt, and some officials with the ruling party insist violence broke out when presidential guards from Kiir's majority Dinka tribe tried to disarm guards from the Nuer ethnic group, leading to wider military clashes along ethnic lines.
The number of internally displaced people continues to rise, with many seeking shelter at U.N. compounds across the country. There are sporadic military clashes in the oil-rich states of Unity and Upper Nile, potentially endangering the oil revenues that South Sudan depends on to keep the government running.
The U.N. said aid agencies need at least $166 million to save lives.
The top U.N. humanitarian official in South Sudan, Toby Lanzer, said earlier this week that he believes the death toll has surpassed 1,000. The U.N. also is investigating alleged mass killings in the latest violence.
"We have heard reports of extra-judicial killings, arbitrary detentions of civilians, ill-treatment, abuse and also mass graves," said Hilde Johnson, head of the U.N. mission in South Sudan. "Our human rights officers have been working around the clock, throughout this crisis, and they are investigating these reports and allegations."
Following a meeting Thursday with the leaders of Ethiopia and Kenya, Kiir agreed "in principle" to stop hostilities and to negotiate with Machar, who is expected to be formally invited by IGAD to attend upcoming peace talks, according to South Sudanese Foreign Minister Barnaba Marial Benjamin.
U.N. Secretary-General Ban Ki-moon has repeatedly urged South Sudan's leaders to start talks, but it remains unclear when Kiir and Machar will start negotiations.
Machar, an influential politician who appears to command the loyalty of Nuer army officers, has criticized Kiir as a dictator and says he will contest the 2015 presidential election. Kiir had fired Machar as his deputy in July following a power struggle within the ruling party, stoking ethnic tensions in a country with a history of divided military loyalties.