Soldiers Bust Drug Cartel's Armored Truck "Factory"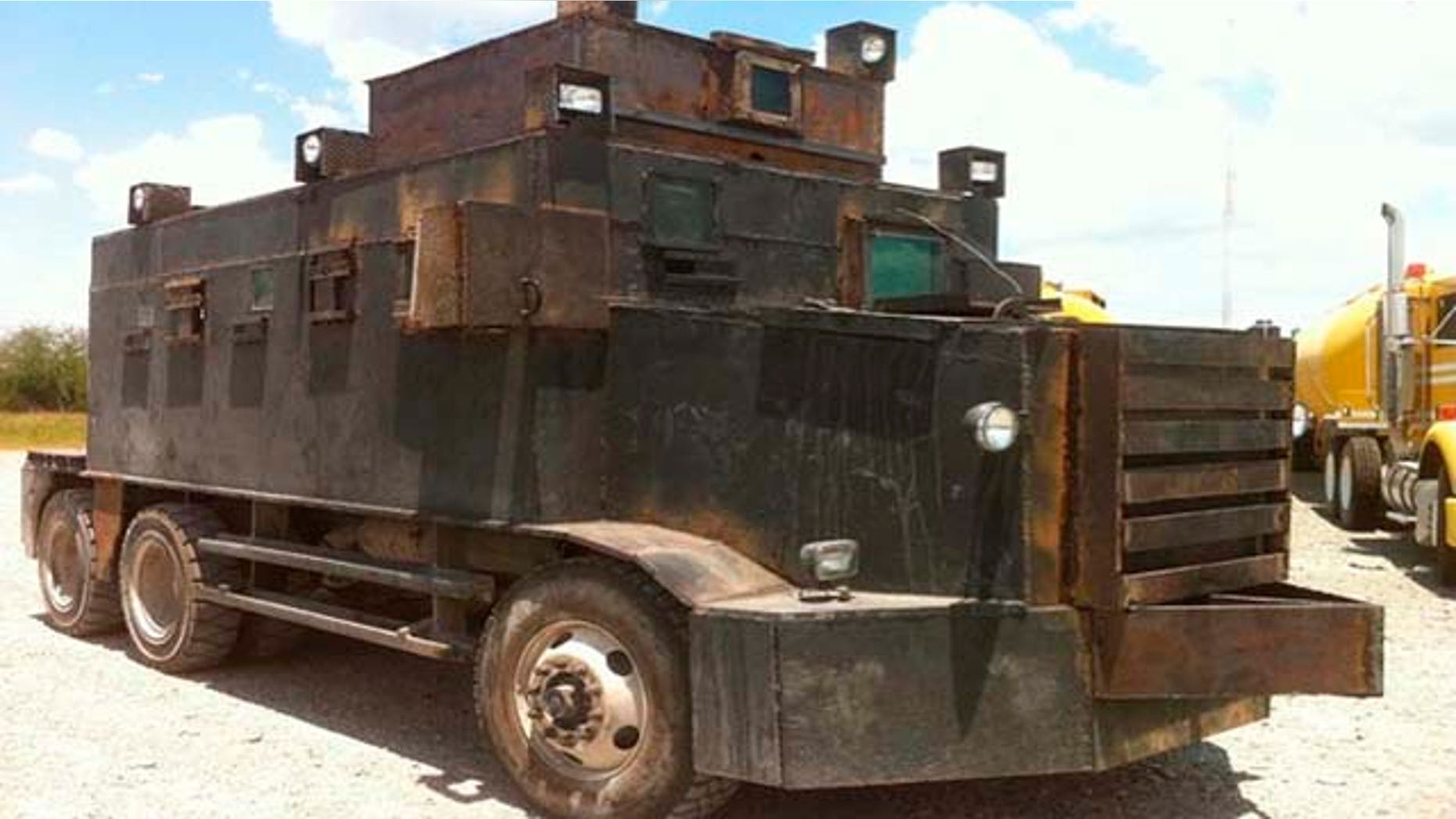 Drug cartels in Mexico apparently have a new weapon in their wave of terror – makeshift armored trucks.
Soldiers seized two of the armored cargo vehicles, which drug cartels have been using for street battles with rivals, in a northern border state
The Defense Department said the trucks were found during a weekend search of a metalworking shop that had been used by a drug gang in the town of Camargo in Tamaulipas state. It said the trucks had inch-thick sheet steel welded over the cabin, doors and cargo container, complete with primitive fixed turrets and firing ports.
About 25 other trucks — some already partly modified — were also found at the workshop, the military's statement said.
The first armored truck to turn up in Mexico was found wrecked in the Tamaulipas town of Ciudad Mier last year, in an area being fought over by the Gulf and Zetas drug cartels.
There were no arrests in the raid on the metalworking shop, but the army said soldiers killed two suspects in a confrontation in another part of the state, the military said.
Farther south, soldiers killed eight alleged gunmen in a shootout in the Gulf of Mexico coast state of Veracruz, the Defense Department said Monday.
Troops were checking on a citizen's complaint of armed men at a cemetery in the town of San Julian on Sunday when they came under fire, a statement said. The soldiers returned fire, killing eight suspects, and they also arrested one gunman, it said.
Meanwhile, Mexican marines over the weekend seized a cache of weapons in the northern state of Coahuila that allegedly belongs to the Zetas drug cartel, the navy said Monday.
The marines found 80 automatic rifles, 20 handguns, three grenade launchers, more than 50,000 bullets, a ton of fireworks and six pounds (three kilograms) of explosives in gel form, the statement said. It said the weapons were buried in an empty lot near the city of Monclova.
On Friday near Monclova, soldiers found a buried cache of weapons that included 154 rifles and shotguns and more than 92,000 rounds of ammunition, the Defense Department said. It said those weapons also were thought to belong to the Zetas.
Tamaulipas and Coahuila are two of several northern Mexican states where the Gulf and Zetas drug cartels are fighting for control.
Based on reporting by The Associated Press.
Follow us on twitter.com/foxnewslatino
Like us at facebook.com/foxnewslatino