Singapore teen arrested for critical video comparing former Prime Minister to Hitler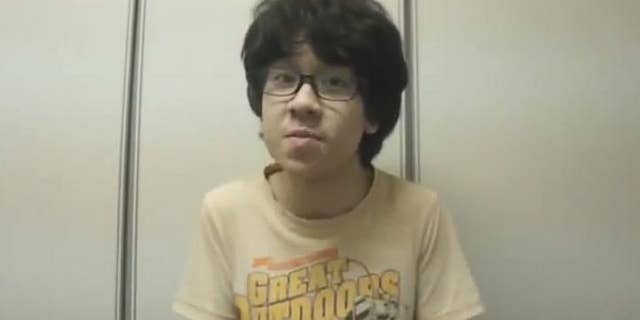 A 17-year-old student was arrested in Singapore Monday after posting an inflammatory YouTube video, comparing the country's founding Prime Minister-- who died last week—to famous dictators, including Mao, Hitler and Stalin.
Amos Yee, a former child actor, talks to the camera in the 8-minute video clip, challenging the outpouring of sympathy and respect for former Prime Minister Lee Kuan Yew, who died last Tuesday at the age of 91.
Singapore police have confirmed they are holding a 17-year-old, but have not identified Yee.
"Why hasn't anyone said 'F--- yeah! The guy is dead'?" Yee asked in the video.
"Lee Kuan Yew was a horrible person, because everyone is scared, everyone is afraid if they say something like that, they might get into trouble," he said.
Prime Minister Lee founded Singapore as a nation and is known for developing its wealthy economy and democratic city-state government. Thousands of Singaporeans attended his state funeral and more than 450,000 waited on long lines to see him lying in state at Parliament House.
But the teen had another opinion, calling Lee an "awful leader."
"He was a dictator but managed to fool most of the world to think he was democratic," Yee insisted.
"However during your rule, you controlled the entire media and education proliferating nationalistic propaganda on a daily basis," he added.
While he was a respected world leader by many, some of Lee's methods-- which have endured-- were controversial and earned him the nickname "the benevolent dictator," Sky News reported.
During his time in office-- between 1959 and 1990— Lee transformed Singapore, a marshy island trading post with no natural resources, into Asia's richest nation as measured by GDP per capita, five times higher than Malaysia. He crushed corruption at all levels, built a top-notch, efficient bureaucracy, set up an excellent education system and focused on creating world-class service industries that would be competitive in a global market.
But Lee introduced limits on freedom of expression and held tight reins on the media and courts. His belief was that a completely western-style liberal democracy wouldn't work in multi-ethnic Singapore.
The video likens Lee to former leader of China's Communist party Mao Zedong, German dictator Adolf Hitler, and former Russian premier Joseph Stalin.
Yee also drew a comparison between Prime Minister Lee and Jesus Christ, saying they were "both power hungry and malicious but deceive others into thinking they are both compassionate and kind."
The video challenges Singapore's political leaders' high salaries. The country's current prime minister, Lee Kuan Yew's son, Lee Hsien Loong, is reported to have an annual salary of more than $2.2 million.
"They are acquiring so much money. Why aren't they spending it on the people? What are they actually spending it on?" Yee asked.
"Most people in Singapore are struggling to make ends meet. We are one of the richest countries in the world and yet we have one of the highest income inequalities," Yee said.
A furious backlash from Lee loyalists has started online in response to Yee's video. While the original version was removed from the internet, it has been re-posted numerous times and one version has racked up more than 12,000 views.
Lee stepped down as prime minister in 1990, but remained a commanding presence in Singapore politics and the region for decades.
The Associated Press contributed to this report.