Shipwrecked Italian cruise liner Costa Concordia to be refloated, removed intact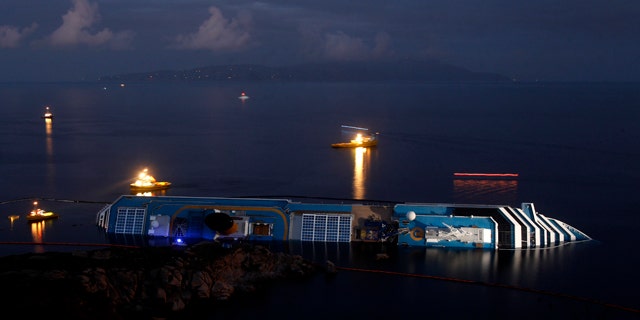 GENOA, Italy -- The shipwrecked Italian cruise liner the Costa Concordia will be refloated and towed away in one piece by a US-owned salvage firm, the ship's owners announced Saturday.
Costa Crociere said Florida-based Titan Salvage will work with Italian marine contractors Micoperi to remove the wreck from waters off the island of Giglio, where it crashed Jan.13, killing 32 people.
Italian authorities must first approve the work, which is expected to begin in early May and take around a year to complete, Genoa-based Costa Crociere said in a statement.
Pier Luigi Foschi, the chief executive of the British-American owned Italian cruise line said, "We are very pleased to announce another important step towards salvaging the wreck from Giglio island."
He thanked Dutch company Smit and Italian firm Tito Neri for successfully pumping fuel from the ship in a six-week operation, completed March 24, Italian newspaper Liguria Notizie reported.
Foschi added, "As was the case with the removal of the fuel, we have sought to identify the best solution to safeguard the island and its marine environment and to protect its tourism."
Once the wreck is floated, it will be towed to an Italian port, where authorities will decide on its fate, Costa said. The sea bottom will then be cleaned and marine flora restored.
The operational base will be located outside the island on the nearby port of Civitavecchia, to lessen the impact on Giglio's port activities and tourism, Costa added.
The Costa Concordia had 4,229 people on board -- including 3,200 passengers from 60 countries -- when it capsized.
The ship's captain, Francesco Schettino, and three Costa Crociere executives are among nine people being investigated over the disaster.
Click here for more on this story from the Liguria Notizie newspaper.