Sen. Marco Rubio On Justin Bieber: 'That Kid's In Trouble ... I Hope He Gets Some Help'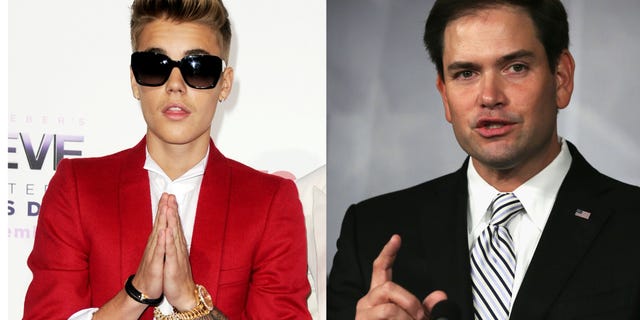 When you're a U.S. senator, your hands are full.
There is, say, Iran and its nuclear ambitions. Syria and the chemical attack by the government on its citizens The debt ceiling. And some 11 million people – more than the entire population of many nations – living under the radar, without legal status, in the United States.
And then, there's Justin Bieber.
Yes, THAT Justin Beiber – the 19-year-old bad-boy Canadian pop star who has been making what seems to be weekly stops at police stations, most recently in Toronto and Miami Beach.
And so, Sen. Marco Rubio, a Republican from Florida, weighed in on The Biebs' troubles when cornered on Capitol Hill by a correspondent for TMZ, the celebrity gossip and entertainment website.
Noting that there are "big issues" occupying his attention and time these days, Rubio nonetheless observed that "that kid's in trouble."
There seemed to genuine concern from the senator.
"I hope he gets some help," Rubio said. "It sounds like he's got a lot of problems."
If Bieber doesn't get a grip on himself, and his issues, said Rubio, "He's going to wind up in a bad, bad place."
On Wednesday, Bieber, who is in the United States on a temporary visa, pleaded not guilty in Florida to charges of driving under the influence after allegedly driving nearly twice the speed limit on a Miami Beach street. He also pleaded not guilty to resisting arrest and driving with an expired license.
Bieber and R&B singer Khalil Amir Sharieff were arrested last week in Miami Beach during what police described as an illegal street drag race between a Lamborghini and a Ferrari. Neither has been charged with drag racing, which is a crime in Florida.
On Thursday, TMZ reported that the toxicology report showed Bieber was on marijuana and Xanax at the time of his Miami Beach arrest.
The singer told police he had been smoking pot all day and that his mother had given him Xanax.
This week, Bieber was charged with assault for allegedly hitting a Toronto limousine driver several times in the back of the head last month.
The Associated Press contributed to this report.
Follow us on twitter.com/foxnewslatino
Like us at facebook.com/foxnewslatino