Secret, 905-foot-long drug tunnel found along U.S.-Mexico border in Arizona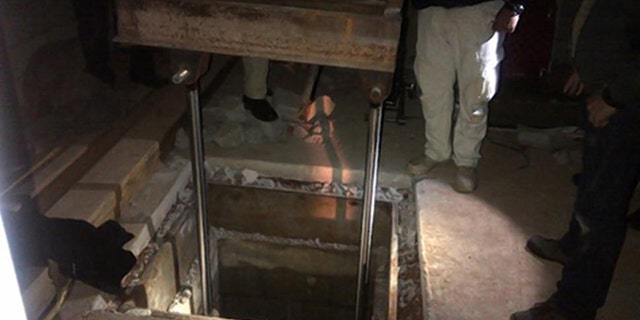 NEWYou can now listen to Fox News articles!
Federal agents discovered the longest drug tunnel ever unearthed along the agency's Tuscon sector earlier this week when they found a 905-foot-long drug thruway in the tiny town of Naco, Arizona.
At three times the length of a football field and replete with lighting, wooden supports and a cement shaft complete with a hydraulic lift, the record-breaking drug tunnel was discovered following a major marijuana bust in the town of Bisbee.
Acting on a tip by deferral authorities, Bisbee police officers and Border Patrol agents stopped a U-Haul truck headed toward to the Naco house and found 4,700 pounds of marijuana "bundled and stacked," according to U.S. Customs and Border Protection. The pot was worth around $3 million.
The truck stop and subsequent search of the Naco-area house netted two suspects as well – Luis E. Jacobo, 37, who was driving the truck, and his father, Luis E. Jacobo, 59, who was inside the home with the tunnel.
Bisbee police Staff Sgt. Robert Coronado told local media in Arizona that the tunnel is a "national security issue" until CBP can search it completely and secure all tunnel access points.
U.S. officials are also working with their counterparts in Mexico to find an opening across the border.
While the Naco-area tunnel may seem huge, it is dwarfed by one found in 2013 along the border connecting Tijuana, Mexico to California, which was the length of nearly six football fields and equipped with an electric rail system.
The tunnel linked warehouses in Tijuana to San Diego's Otay Mesa industrial area. The area is filled with nondescript warehouses, making it easier to conceal trucks being loaded with drugs.
The Naco tunnel is one of 102 tunnels discovered along the 2,000-mile U.S.-Mexico border since 1990, with most being found between 2008 and 2012.
Like us on Facebook
Follow us on Twitter & Instagram