Scrap dealer's bargain turns out to be Faberge egg worth millions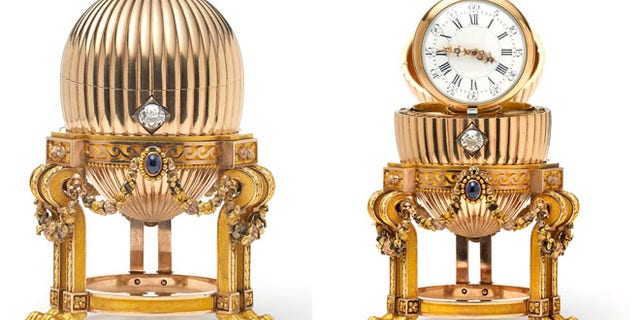 A London antique dealer says a gold ornament bought by an American scrap-metal dealer a decade ago has turned out to be a rare Faberge egg worth millions.
Kieran McCarthy of Wartski said Wednesday the egg was purchased at a Midwestern antique fair for about $14,000, and likened the discovery to "being Indiana Jones and finding the Lost Ark."
The egg, containing a Vacheron Constantin watch, was an 1887 Easter gift from Russian Czar Alexander III to his wife, Empress Maria Feodorovna. The egg was last seen in public in 1902 as part of an exhibition of imperial treasures in St. Petersburg, Russia, according to The Telegraph.
The egg was bought a decade ago, but the buyer only began to suspect its value after searching online in 2012 for Vacheron Constantin, whose name was engraved on the watch inside.
He found an article about the 50 imperial Faberge Easter eggs made for Russian royalty and then contacted McCarthy, who flew to the U.S. to verify it and negotiated its sale to a collector.
"It was a very modest home in the Midwest, next to a highway and a Dunkin' Donuts," McCarthy told The Telegraph. "There was the egg, next to some cupcakes on the kitchen counter."
McCarthy said the man "literally fell to the floor in astonishment" when he found out that the egg was the real deal.
Both buyer and seller want to remain anonymous, and Wartski did not disclose the sale price. In 2007, a Faberge egg sold at Christie's for $18.5 million.
The person who purchased the egg in the Midwest had intended to sell it to someone who would melt it down so he could turn a profit, but prospective buyers rejected his offers, believing that he was overestimating the egg's value, The Telegraph reports.
The egg will be on public display at Wartski's headquarters in London from April 14-17.
Click for more from The Telegraph.
The Associated Press contributed to this report.