School children fall ill in India from drinking water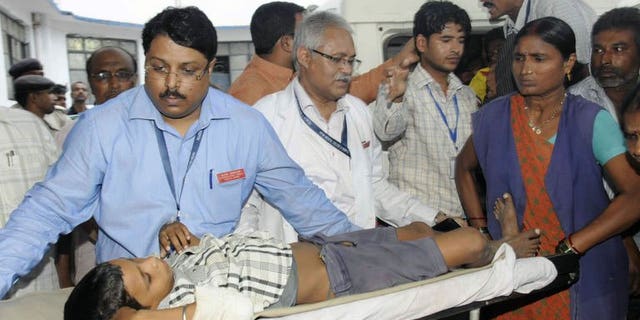 PATNA, India (AFP) – About a dozen children in eastern India fell ill and were taken to hospital on Thursday after drinking suspected contaminated water at their school, a hospital official said.
The children became sick after drinking water from a hand pump in the dirt-poor state of Bihar, in the same district where 23 children died last month after eating a poisoned lunch provided by their school.
They were in a stable condition at a hospital in the state capital Patna, after drinking the water at their village school in Saran district, hospital superintendent Amarkant Jha Amar told AFP.
"They were taken to hospital when their condition deteriorated after drinking the water from the pump," he said.
The ages of the children are unknown but they were from a middle school which students usually aged 11-14 attend.
Bihar Chief Minister Nitish Kumar said he ordered the state's police chief to investigate, as "reports of poison being mixed into hand pumps at schools are coming from different places".
The incident comes after the 23 children, aged four to 12, died after eating their free lunch of lentils, potatoes and rice cooked at their primary school in a village in Saran district on July 16.
Oil used to cook the food contained a pesticide that was five times the strength sold in the marketplace, a forensic report after the tragedy found.
Police arrested the head teacher of that school for questioning over the tragedy, which sparked angry protests from anguished parents and residents.
Free lunches are offered to some 120 million schoolchildren throughout India in what is the world's largest school feeding programme. Bihar is one of the country's poorest and most densely-populated states.
Educators see the midday meal scheme as a way to increase school attendance, in a country where almost half of all young children are undernourished. But children often suffer from food poisoning due to poor hygiene in kitchens and occasionally sub-standard food.
The July 16 tragedy raised concerns about the midday meal programme, with reports of children too scared to eat their food. For many children in Bihar, the free lunch is their only meal of the day.
Thousands of teachers in Bihar also refused to serve the lunches, saying they were being blamed for the poor quality of the food.