Saudi woman makes history as country's first female evening news anchor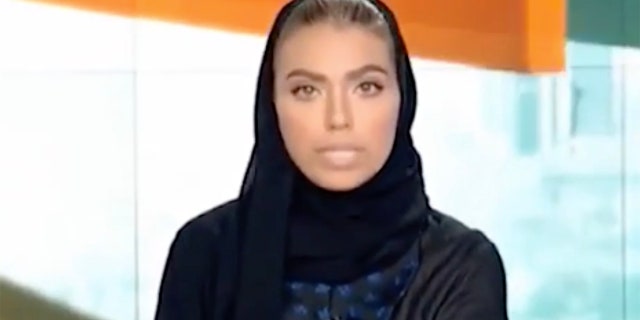 Marking another milestone for women in Saudi Arabia this year, journalist Weam Al Dakheel set a historic precedent by becoming the first woman to deliver an evening newscast on state-owned television.
Dakheel went live Thursday night and presented the news alongside her co-anchor, Omar Al Nashwan, on Saudi TV Channel 1.
"Jumanah AlShami was the first woman to present morning newscasts in 2016," the channel posted on its Twitter account. "Today history repeats itself as Weam Al Dakheel becomes the presenter of the main nightly newscast, setting a precedent in a historic first for Saudi TV 1."
Al Dakheel started working for Saudi TV 1 this year and has previously worked for CNBC Arabia and the Bahrain-based Al-Arab News. However, her appearance has garnered attention on social media since women have traditionally covered softer news features in the country, such as the morning headlines or cooking shows, according to the Khaleej Times.

Her new role comes one year after Crown Prince Mohammed bin Salman unveiled his "Vision 2030" plan to modernize the kingdom.
The reform was designed to move towards a more inclusive Saudi Arabia with aims such as increasing the percentage of women in the nation's workforce from 22 to 30 percent by 2030. As of this year, some of the initiatives allowed women to obtain licenses to drive for the first time and attend sporting matches in select stadiums in the country.

While many view these sweeping reforms as a step in the right direction for change, human rights advocates and critics claim Vision 2030 is a publicity stunt as Saudi Arabia still remains one of the world's most dangerous countries in the world for women.
A Thomson Reuters Foundation poll published in June on women's issues ranked Saudi Arabia among the five most dangerous countries to women, after India, Afghanistan, Syria and Somalia. The kingdom was also named the second worst for women after Afghanistan for economic opportunities, discriminatory policies, and domestic abuse.