Sarkozy's first-round poll lead in French election widens after shootings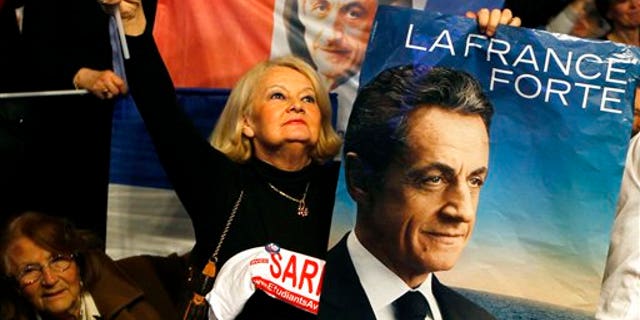 PARIS -- French president Nicolas Sarkozy gained on his Socialist rival Francois Hollande and widened his poll lead for the first round of voting in next month's presidential election, an opinion poll released Thursday showed.
Sarkozy's surge in popularity follows his handling of the crisis in the southwestern city of Toulouse, where al Qaeda-linked gunman Mohammed Merah had been under siege after claiming the lives of three paratroopers, three children and a rabbi in three shooting incidents over the past 11 days.
Merah was killed in a shootout with police at his apartment Thursday.
A CSA survey showed that Sarkozy -- who is seeking a second five-year term as president -- would get 30 percent of the vote if ballots were cast Thursday.
Hollande trailed Sarkozy by two percent at 28 percent, the poll showed.
In the second round of voting, Hollande is expected to gain 54 percent of the vote, compared to Sarkozy's 46 percent.
The first round of voting in the presidential election will be held April 22. If no candidate wins an absolute majority in that round, the top two candidates will face each other in a runoff May 6.
Election campaigning was put on hold Tuesday after the killings outside a Jewish school in Toulouse.
The 10 candidates are expected to resume campaign activity Thursday, Dow Jones Newswires reported.