S. Africa mine massacre probe in crisis as more lawyers walk out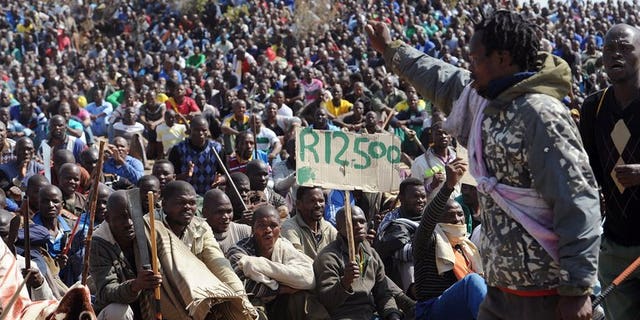 JOHANNESBURG, Gauteng (AFP) – Lawyers for relatives of 34 miners gunned down by South African police nearly a year ago said Wednesday they had pulled out of an already-troubled investigation into the deaths.
A legal charity represented by Nelson Mandela's former lawyer, George Bizos, became the fourth party to pull out of a commission set up to probe the killings, amid a row over the government's failure to cover legal fees.
"Our clients have also instructed us to provisionally withdraw from participating in the commission," said a statement by the Legal Resource Centre where Bizos is based.
Legal teams representing a labour union, arrested and injured workers, and another group of dead miners have already pulled out this week.
Their move is an act of solidarity with the group of injured or arrested workers whose lawyers filed an urgent court application to force the government to pay their legal fees.
"It does undermine the processes that we have in the commission to make sure that we get to the bottom of what happened," commission spokesman Tshepo Mahlangu, told AFP.
But he said the commission had been told that the withdrawals were provisional and done in solidarity with the court application. A ruling on the legal fees matter is expected Thursday.
The commission was set up by President Jacob Zuma last August to probe the deaths of 34 miners and ten others during a pay strike at the Lonmin platinum mine, which was dubbed the "Marikana massacre".