Russian translator killed in Ukraine mourned as 'true hero' who fought for human rights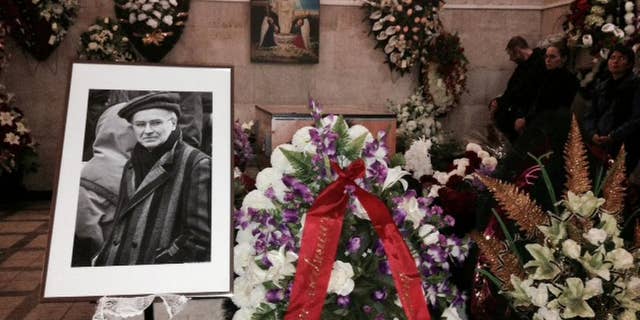 MOSCOW – When the news first came that an Italian photographer was killed during fighting in eastern Ukraine, the reports noted that his Russian translator, unnamed, had died along with him.
The translator, 60-year-old Andrei Mironov, was mourned at his funeral in Moscow on Friday as that and so much more.
One of the last political prisoners to be held during the Soviet era, Mironov dedicated the rest of his life to exposing human rights abuses. He also helped foreign journalists covering war and injustice to bring those stories to the world.
His work took him to Chechnya in the 1990s, where Russian troops and Chechen separatists fought a brutal war, and later to Afghanistan for the campaign to drive out the Taliban.
His most recent assignment was to eastern Ukraine, where he and Italian photographer Andrea Rocchelli were killed May 24 after apparently being caught in crossfire between separatist fighters and Ukrainian army troops near Slovyansk. A French photographer traveling with them said their car was hit by automatic weapon fire, and after they ran for cover they were caught in a heavy mortar attack.
The next day, the Moscow newspaper Novaya Gazeta published Mironov's story of two families in Slovyansk who had become "hostages of the war." Rocchelli's photographs accompanying the story showed children huddled in cellars among jars of pickled vegetables, seeking safety from the shelling.
Since Mironov's death, former Moscow correspondents have shared stories of how he had kept them safe during the Chechen war while cheating death himself. Human rights activists have described his passionate work documenting abuses during that war and finding help for people in need.
More stories were told during Friday's funeral, held in a sweltering, windowless room at a city morgue. One after another, friends and colleagues walked forward to lay flowers or say a few words, some resting a hand on the closed casket.
"He was an unassuming and quiet man who often went unnoticed," said Viktor Kuzin, who said he had known Mironov for 25 years. "But he did necessary and important work. He was a true hero."
Kuzin said when he first heard about the deaths of Rocchelli and a Russian translator near Slovyansk, he hoped it was not Mironov, but suspected it was. "No one else would be there," he said.
Mironov was one of the last political prisoners held in the Soviet Union. He was arrested in 1985 for photocopying and distributing banned books and sentenced to four years in prison, to be followed by three years in exile. But in early 1987, he and other political prisoners were released by Soviet leader Mikhail Gorbachev under pressure from the West.
His life's work as a rights activist then began.
"His whole life was dedicated to justice, only justice," Lena Ilingina, another longtime friend and colleague, said at the funeral.
Svetlana Gannushkina, one of Russia's most prominent rights activists, described Mironov in her blog as a "man with a crystal clear soul, absolute unselfishness, an unlimited uncompromising sense of justice, amazing kindness and faith in goodness."
Mironov is survived by his mother and two brothers. He is to be buried Sunday in his hometown, Izhevsk.