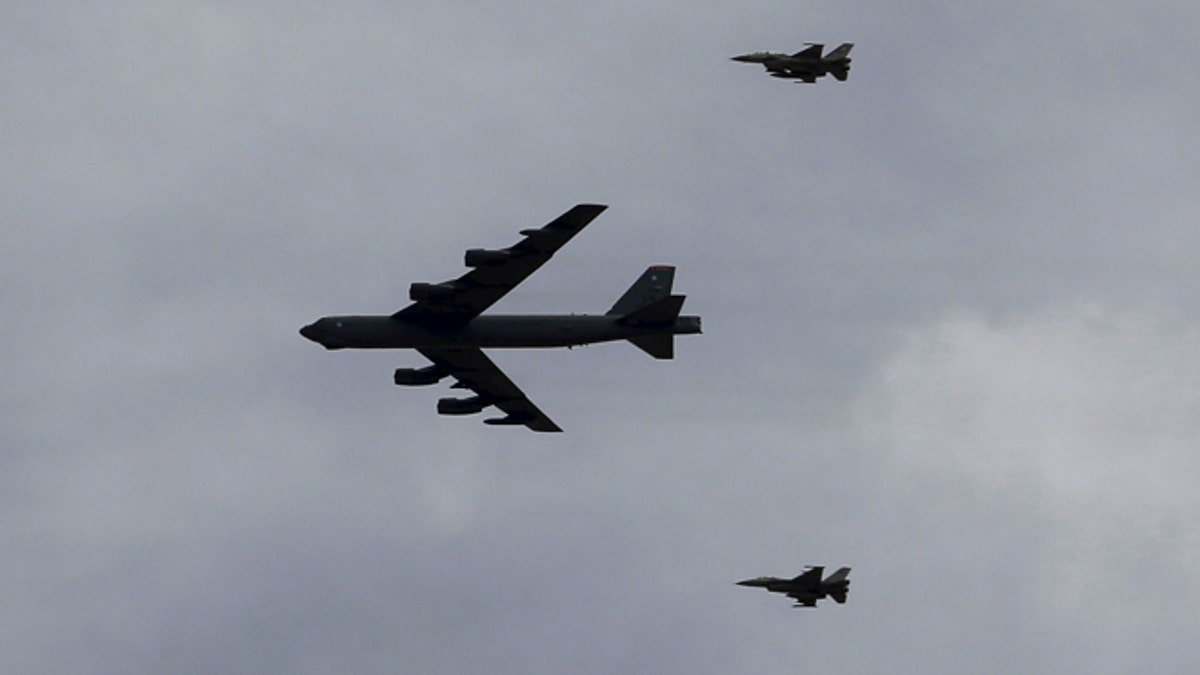 A U.S. Air Force B-52 bomber flying a "routine mission" in international airspace over the Baltic Sea was intercepted by a Russian jet on Tuesday, a Pentagon spokesman said.
The U.S. bomber was still up in the air Tuesday afternoon and the crew had not been debriefed about the incident, meaning it was not yet known exactly how close the Russian Su-27 fighter jet came to the U.S. plane, Capt. Jeff Davis said. The bomber was deployed to the U.K. from Barksdale Air Force Base in Louisiana earlier this month, U.S. European Command told Fox News.
The "vast majority" of Russian intercepts with U.S. forces are safe and professional, Davis said.
But Tuesday's intercept is just the latest example of aggressive Russian actions aimed at the U.S. military and homeland.
TRUMP AND RUSSIA INVESTIGATION: WHAT TO KNOW
In May, a pair of Russian Bear Bombers entered Alaska's "air defense zone" escorted by two Russian jets. That instance followed several consecutive nights in April when Russian spy planes and bombers buzzed Alaskan airspace.
In February, The Russian spy ship Viktor Leonov traversed the U.S. East Coast and approached a Navy submarine base in Connecticut.
PUTIN OPENS UP ON CLAIM RUSSIA HAS DAMAGING TRUMP INFO
There have also been several instances of Russian jets buzzing Navy ships at sea.
The U.S. bomber intercepted Tuesday arrived days ago in the region to take part in the annual Baltic training operation called "Baltops."
There are 14 allied countries participating in the annual military exercise which includes 6,000 personal, 50 aircraft, 56 ships and submarines. The exercise also includes live fire training. Some ships will be sailing from Poland to Germany.