Russian fan union chief being deported from France _ again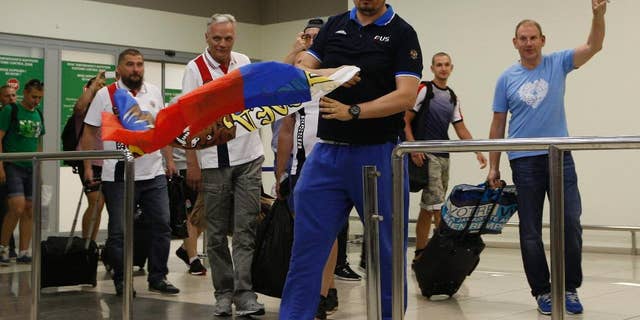 NEWYou can now listen to Fox News articles!
TOULOUSE, France – A Russian fan group leader is being kicked out of France again — days after he was deported for alleged involvement in hooliganism and slipped back in to the country illegally.
Alexander Shprygin's actions exposed failings in Europe's internal border security, and kept attention on Russian football fans despite Russia's elimination from the Euro 2016 tournament Monday night.
Shprygin, who is suspected of ties to the extreme right, was among several Russian fans detained last week and barred from French territory after violence around a match in Marseille.
Shprygin left France on Saturday, then returned Monday for Russia's match against Wales in Toulouse, apparently traveling overland from a neighboring country to avoid airport border controls. He tweeted that he re-entered France by "an unusual route under cover of night," posing as a tourist.
He was detained again at the Toulouse stadium Monday night, after tweeting about his return and posting images of himself online.
He has been ordered to leave France and is likely to fly out of Toulouse on a charter flight for Moscow on Tuesday afternoon, according to a Russian government official who was not authorized to be publicly named. Other members of his fan group are scheduled to leave on that flight.
The incident raised questions about French border security. The country is in a state of emergency following deadly Islamic extremist attacks last year, and has heightened border controls amid fears of an Islamic State attack on the soccer tournament.
French authorities said Shprygin's European visa had not been cancelled because he was barred from French territory and would be stopped if he tried to enter the country again. However, the land crossings between France and other members of Europe's border-free Schengen zone are still relatively porous, with armed officers only carrying out spot checks on train and car arrivals.
Shprygin sits on a Russian government commission overseeing Moscow's preparations for the 2018 World Cup and has become a sort of spokesman for Russian fans at the Euro 2016, tweeting actively about the fans detained in the wake of violence at the Russian-England match in Marseille June 11.
UEFA-affiliated anti-discrimination group the Fare Network has said his role in Russian football "shows the mechanics of infiltration of the far-right into fan scenes" in Russia. He has admitted to posting pictures of far right symbols online but says neither he nor his organization is racist.