Russian city visited by Boston bomber a nest of terror, violence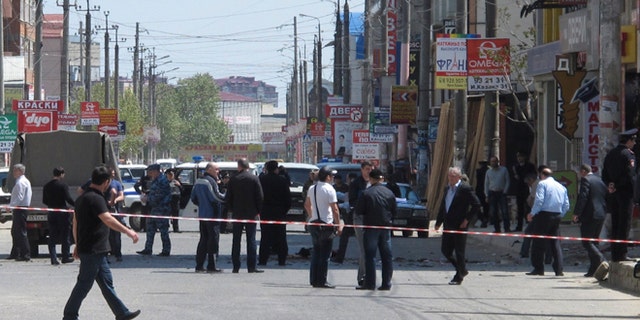 When Boston Marathon bomber Tamerlan Tsarnaev got off a plane in Dagestan's capital last year, he found himself in one of the most radicalized and dangerous cities on Earth, a place where, battle-hardened Muslim warriors driven out of Chechnya mingle with Middle Eastern jihadis, where terror attacks are a daily occurrence and a shadowy terror organization runs a state with the state.
There has been much speculation about whether the 26-year-old former boxer had already embraced a violent brand of Islam when he arrived for a six-month stay in Makhachkala, where a brutal terror group known as the Caucuses Emirate is entrenched. And whether or not Tsarnaev met up with members of the emerging terrorist network, his time on their turf could only have sharpened his radical world view – and given him ample opportunity to learn how to act upon it.
[pullquote]
Experts who know the dusty port city on the Caspian Sea say it is well known for only two things: terror and sports. And they often go hand in hand.
In fact, WikiTravel, a website that gives practical travel advice to tourists, states that travel there is just too dangerous and notes with grim sarcasm the only activity worth pursuing is "taking IED construction classes." The reference is to Improvised Explosive Devices, or homemade bombs like the pressure cooker loaded with shrapnel and gunpowder Tsarnaev is believed to have used in the April 15 attack in Boston.
"If there was any bomb training it was here," says Anton Fedyashin, a professor at American University in Washingon, and executive director of the Initiative for Russian Culture. "And it wasn't in camps. It is just everywhere. It could have been done in his house or down the street."
Ironically, Fedyashin and other experts say that had Tsarnaev actually gone to Chechnya, the war torn region where his family's ethnic roots lie, he would have found a far more placid place than Makhachkala. The reason for that, they say, is the successful Russian effort supporting Chechen President Ramzan Kadyrov, a local clan leader who has used a keen sense of clan loyalties and divisions and brutal tactics to suppress the rebellion that has torn the country apart since 1994.
Kadyrov's success in ending the revolt, however, has meant that most of the major adversaries have been forced into surrounding countries, particularly Dagestan.
"There is an old Russian saying that "in times of trouble feet find the forest," say Professor Charles King of the Georgetown School of International Studies. "And in this case the forest is Dagestan," he said.
Last year, the small Russian republic suffered a terror attack almost every day. Between January and November there were 262 terror crimes, according to the state prosecutor's office. And state authorities say they killed 219 terror suspects in confrontations.
Perhaps there is no greater illustration of the extent of the terror that the city faces than its mayor, Said Amirov, who has survived 15 assassination attempts in his 20 years in office.
Virtually all of those terror crimes, according to Mila Johns, a researcher at the National Consortium for the Study of Terrorism and Responses to Terrorism, were the handiwork one group: the Caucuses Emirate.
The group, formed in 2007, is not only the largest terror group working in the Chechnya-Dagestan area, but over time has become the main umbrella organization and primary director for other, smaller groups working throughout southern Russia.
"There is simply no way to count the number of small jihadist organizations here," Fedyashin said. "The boats come up the Caspian Sea, and the Islamists slip ashore and disappear. Surprisingly they are mainly from Pakistan, Afghanistan and Saudi Arabia."
And what happens when they get there?
Fedyashin says they meet a country whose economy has collapsed, where young men sit around and face an unemployment rate that reaches fifty percent and corruption is pervasive.
"There are only two places for the young men to go: the mosques or the street corner," he said.
They can become prime recruits for the Caucuses Emirate, one of the most sophisticated and secretive terror groups in the world, one that has withstood Russian security services and proven as brutal as it is resilient.
Since 2007, according to Gordon Hahn of the Center for Strategic and International Studies, Caucasus Emirate has carried out more than 2,000 attacks and 47 suicide bombings. Among those attacks are some of the most horrific of the decade, including the Moscow subway bombing that killed 40 and an airport bombing that killed 36.
In 2011, the United Nations Security Council determined that the group was affiliated with Al-Qaeda, which prompted the U.S. to offer a $5 million reward for information leading to the capture of its leader, Doku Umarov.
With a inner membership estimated in the hundreds, and adherents many times that number, the Caucuses Emirate's sole goal is to establish a Caliphate, or Muslim state, in the Caucasus that would eventually go on to recapture all the territory Mohammed once ruled.
Well organized, disciplined and, most importantly, possessing one of the most sophisticated Internet networks of any terror group, the Caucuses Emirates in recent weeks has changed tactics and perspective, according to Johns.
"They have decided to take a more global outlook," she said. "They are sending soldiers to Syria and are using the Internet to recruit new members."
In the near term, the Caucasus Emirate says it has no claims on territory. But, with some creditability, it argues that the emirate already exists as a "virtual state."
And it was in that virtual state where Tamerlan Tsarnaev, who police say had copies of its web site propaganda on his computer, may have found his religious fervor.