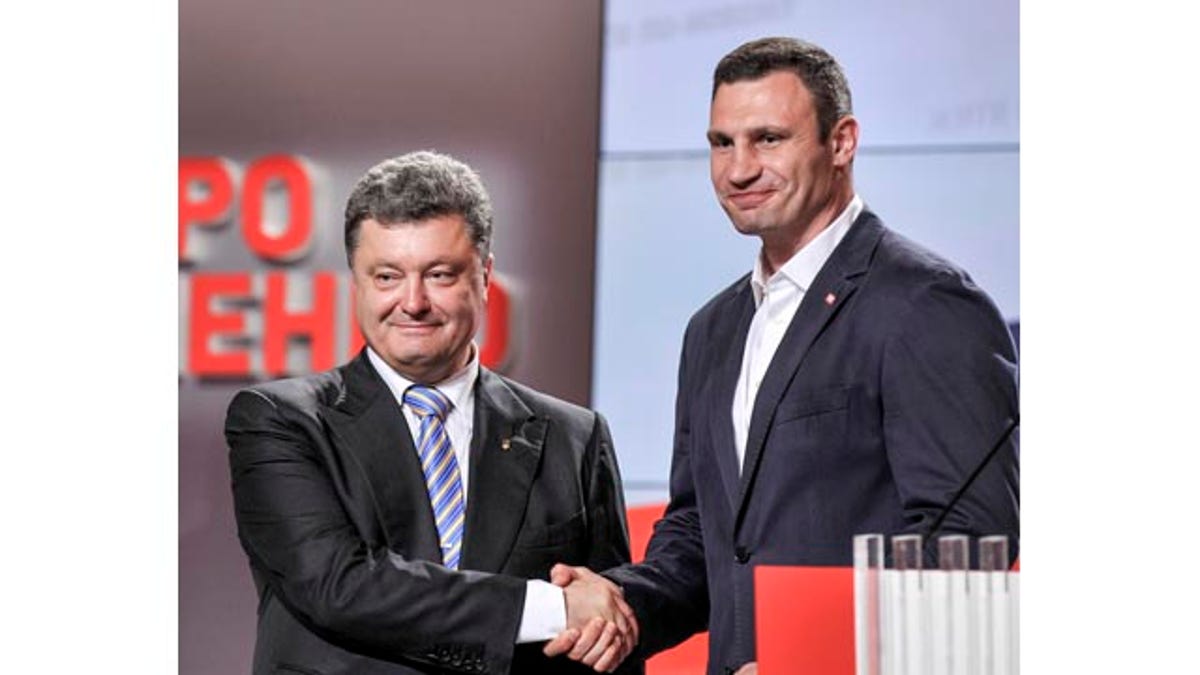 Russia's foreign minister said Monday that Moscow was ready for a direct dialogue with Ukraine's new president, without Western mediation.
Sergey Lavrov spoke as early returns showed that billionaire candy tycoon Petro Poroshenko appeared to have won a decisive victory in Sunday's election.
Lavrov said that Russia had noted Poroshenko's statements about the importance of normalizing ties with Moscow and the need to establish a dialogue with eastern regions, where pro-Russia insurgents have seized government buildings and fought government troops.
With about 60 percent of precincts reporting early Monday, Poroshenko led a field of 21 candidates with 54 percent of the vote. Former Prime Minister Yulia Tymoshenko was running a distant second with 13 percent. Both results were in line with exit polls, which showed Poroshenko with nearly 56 percent and Tymoshenko with 13 percent.
If Poroshenko's share of the vote remains above 50 percent, he would avoid a runoff against the second-place finisher, likely Tymoshenko, June 15.
The rebels had vowed to block the ballot in the east, and less than 20 percent of the polling stations were open there after gunmen intimidated local residents by smashing ballot boxes, shutting down polling centers and issuing threats.
But nationwide, about 60 percent of 35.5 million eligible voters turned out, the central elections commission said, and long lines snaked around polling stations in the capital, Kiev.
On Monday, around 100 armed separatist militants seized the airport in the eastern city of Donetsk, an airport official confirmed to Fox News. Flights were canceled due to "safety reasons" as the militants demanded that Ukrainian soldiers based at the terminal leave. The official called the airport scene "a bad situation," despite the fact that no shots had been fired.
Viewing the exit polls as definitive evidence of victory, Poroshenko said his first steps as president would be to visit the Donbass eastern industrial region, home to Ukraine's coal mines. He also said he was ready to extend amnesty to those who did not commit any crimes, saying he wanted to "put an end to war, chaos, crime, and bring peace to the Ukrainian land."
"For those who are killing the people, they are terrorists, and no country in the world has any negotiations with terrorists," Poroshenko said, speaking in English.
Since the ouster of pro-Russia president Viktor Yanukovych in February, Russia has annexed the Crimea in southern Ukraine, the eastern regions of Luhansk and Donetsk have declared their independence from Kiev, and the interim Ukrainian government has launched an offensive in the east to quash an uprising that has left dozens dead.
Earlier Monday, Poroshenko also said the Kiev government would like to negotiate a new security treaty with Moscow.
Poroshenko ducked the question whether he was prepared to work with Russian President Vladimir Putin, but said meetings with Russia should be held as soon as possible.
"And I think that Russia is our neighbor. And without Russia it would be much less effective or almost impossible to speak about the security in the whole region or maybe about the global security," Poroshenko said.
Putin has promised to "respect the choice of the Ukrainian people" in the election and said he would work with the winner, in an apparent bid to ease Russia's worst crisis with the West since the Cold War and avoid a new round of Western sanctions. The interim Kiev government and the West have accused Russia of backing the separatist uprising. Moscow has denied the accusations.
Fox News' Greg Palkot and The Associated Press contributed to this report.