Romanian prime minister fires foreign minister over protest insult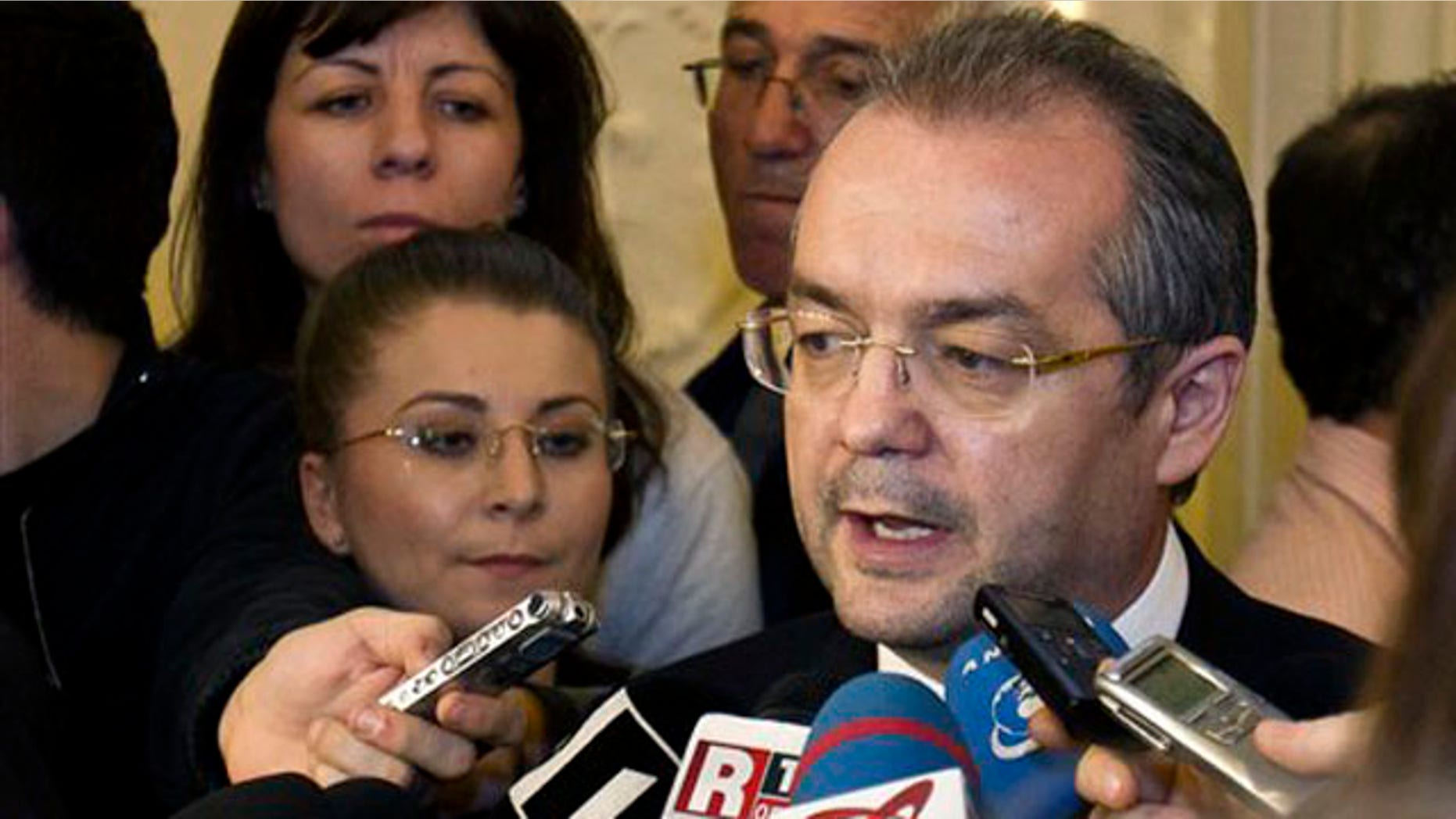 BUCHAREST, Romania – Romania's Prime Minister Emil Boc on Monday fired the foreign minister over insulting remarks he made about anti-government protesters -- but the opposition said the move would not appease widespread public anger.
Emil Boc said in a speech to Parliament that Foreign Minister Teodor Baconschi was fired for making inappropriate remarks about protesters, who have taken to the streets for the past 10 days to demonstrate against austerity measures and call for the resignation of President Traian Basescu and the government.
Meanwhile, Romania's anti-government protests continued Monday. Hundreds of demonstrators waved banners showing their deep dissatisfaction with the government and politicians. In University Square, a symbol of Romanian democracy, where protesters first gathered in the 1989 uprising that toppled communism, demonstrators urged others to join them to force the government to resign.
Most protests have been peaceful, but at times clashes between riot police and some groups of demonstrators have turned violent, with more than 60 injured. Last week, as anti-government protests raged in Romania, Baconschi wrote on his blog that Romanians who work for a living will decide the country's future, not the "violent and clueless slums." Baconschi's comments caused outrage.
Boc apologized to protesters during an extraordinary two-day Parliament session called by opposition parties following the protests.
The opposition said the firing of Baconschi did not go far enough, and lawmakers called for early elections, saying Basescu, parliament and the government are no longer wanted by the people.
"Romania needs radical solutions -- early presidential and early general elections to be held as soon as possible," said Crin Antonescu who leads the opposition Liberal Party. "We believe most Romanians are discontented and reject their political leaders."
But Senate speaker Vasile Blaga said Romania needs stability.
"Opinions must be free, but without violence that could point to domestic instability," Blaga said.
He said the tough measures taken by the government saved Romania's economy from collapse.
In 2009, with its economy shrinking by 7.1 percent, Romania took a two-year $27.5 billion loan from the International Monetary Fund, the European Union and the World Bank.
Romania imposed harsh austerity measures under the agreement, reducing public wages by 25 percent and increasing taxes. Anger has mounted over the wage cuts, slashed benefits, higher taxes and perceived widespread corruption. Many Romanians have also become disenchanted with their once-popular president, saying he is too outspoken and has grown increasingly argumentative, which is inappropriate for his office.
Baconschi was appointed foreign minister in December 2009, and before that he was Romania's ambassador to the Vatican and to Paris. He is currently in Brussels for a European Union meeting of foreign ministers. According to the Mediafax news agency, Baconschi said he had received a text message from the prime minister telling him that he was fired.