Rival Koreas strike deal on family reunions: Seoul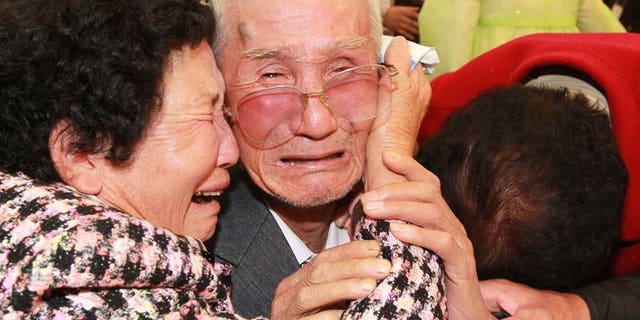 SEOUL (AFP) – South and North Korea agreed Friday to go ahead with reunions next month for families separated for decades by the 1950-53 Korean War, Seoul said.
The reunions will be held on September 25-30 at the North's Mount Kumgang resort, South Korea's Unification Ministry said in a press briefing.
The ministry said 100 families from each side would be selected to take part in the temporary reunion programme, the first in three years.
For those too infirm to travel, reunions via video conferencing will be arranged for 40 families from each side, it said.
"With today's agreement, we set the stage for regular family reunions," ministry spokesman Kim Hyung-Suk said.
The two sides will push for another round of family reunions probably in November, he said.
The push to restart the reunions was initiated last week by South Korean President Park Geun-Hye, who urged Pyongyang to "open its heart" and agree to kickstart the programme in time for next month's Chuseok holiday -- when Korean families traditionally gather together.
The reunion programme was suspended after the North's shelling of a South Korean border island in November 2010, and its resumption after three years would mark a symbolic but important step.