Rights activists raise concerns over arrests in Egypt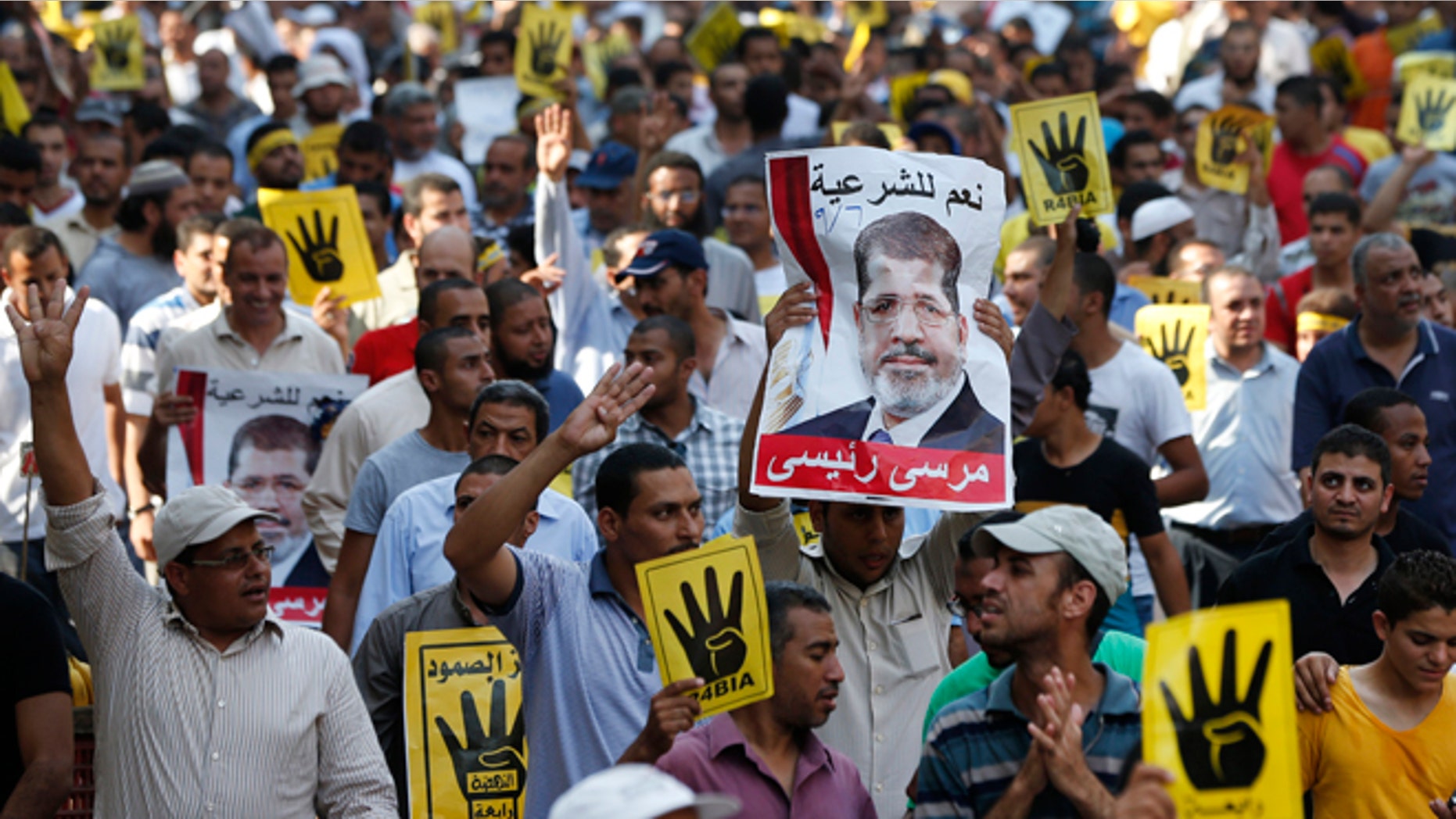 CAIRO – The detentions of an Egyptian labor lawyer and a journalist raised concerns among rights activists Friday that the military-backed government's crackdown on Islamists is expanding to silence other critics of its policies.
Authorities have been carrying out a wave of arrests for weeks against Islamist backers of ousted President Mohammed Morsi, who was removed in a July 3 coup. Still, his supporters have pushed ahead with protests organized by his Muslim Brotherhood denouncing the military and demanding Morsi's return to office.
In the latest rallies, thousands flowed from mosques Friday, chanting "down with military rule" and waving Egyptian flags.
Authorities have depicted the crackdown against Islamists as part of a "fight against terror." At least 2,000 Brotherhood members have been arrested, most on allegations of inciting violence.
A low-intensity militant insurgency has hit the Sinai peninsula and other areas in the south, where Islamist radicals have a strong base. A failed attempt to assassinate the interior minister Thursday with a car bomb has raised fears of an escalating Islamic militant campaign of revenge over the coup.
Along with the arrests, there has also been a heavy blanket of intimidation against criticism from within the non-Islamist camp against the military's actions.
Officials frequently urge the public to unite in the face of the terror threat. Rights lawyer Gamal Eid noted how pro-military TV stations and other media smear critics of the crackdown or other policies, including branding them as a "fifth column" for the Brotherhood. Private citizens have filed legal suits against activists, accusing them of serving foreign agendas or espionage.
The detentions of labor lawyer Haitham Mohammadain and journalist Ahmed Abu-Draa raised further alarm among activists.
Mohammadain was detained from a bus Thursday at a checkpoint in the port city of Suez. He belongs to the Revolutionary Socialists, a well-known leftist group which took part in the 2011 uprising against autocratic leader Hosni Mubarak and protests against Morsi and is now critical of the military.
His lawyer, Maha Youssef, said Mohammedain was first asked by the policeman at the checkpoint why he has a beard, which is seen as a sign of an Islamist. When he objected to the question, the policeman asked him to step out of the bus for more frisking, a power granted to police under the current emergency laws.
When the officer found papers on him identifying him as a member of the Revolutionary Socialists, the officer detained Mohammadain and wrote a police report accusing him of belonging to a secret group, according to Youssef.
She said Mohammadain has yet to be formally charged or questioned.
Journalist Abu-Draa, who reports from the volatile northern Sinai, has been under arrest since Wednesday, a military official said. He faces military investigation on allegations of publishing wrong information about an ongoing security operation, taking photos of military installations without a permit and spreading rumors about the armed forces.
The official spoke on condition anonymity because he isn't authorized to brief reporters.
Abu-Draa, a resident of Sinai, questioned the military's statements about its operations against militant groups in Sinai. During military airstrikes on a village that is a militant stronghold, Abu Draa wrote on Facebook that the strikes hit civilian areas and accused military officials of misinforming the public.
Few journalists have direct access to what is happening in Sinai because of security concerns, forcing many to rely on statement by officials. Abu Draa, an award-winning reporter who has done investigation stories in Sinai, freelances for multiple Egyptian and foreign newspapers and television channels.
A picture of the detained Abu Draa alongside militant suspects appeared in at least one newspaper with a caption identifying those arrested as "terrorists." The military official later said the joint photo was an unintended mistake.
Five journalists have been killed since Morsi's removal and 80 have been arbitrarily detained, Reporters Without Borders said Monday. Seven — most from outlets that authorities accuse of being pro-Islamist — remain in detention.
Eid, the rights lawyer, said Mubarak-era policies on dealing with dissent have remained the same, whether under subsequent interim military rulers or Morsi, who was Egypt's first freely elected president.
"We are before a tyrannical authority with interests very far from the revolution," he said, adding that while the Brotherhood's leaders and supporters are "on the top" of the security's list of arrests, "they are not at its end."
He ridiculed the police report against Mohammadain, saying most activist groups that arose since the uprising against Mubarak are not registered — including Tamarod, or Rebel, which spearheaded the campaign against Morsi and is a strong backer of the military.
"I think the issue is that the Revolutionary Socialists are not among those who are cheering the current authority," he said.
The current interim president was the head of Egypt's Supreme Constitutional Court and created a ministry to deal with transitional justice, referring to rights abuses by police and other authorities. But he also reinstated emergency laws that give sweeping powers to arrest and strip citizens of due process.
So far, non-Islamist dissent has been muted. Millions joined the anti-Morsi protests that led to the coup, and there is widespread sentiment among the public that the Islamists are a danger to the country that must be stopped.
But tempers are sharp.
A wedding party in the southern city of Qena turned into a fight Thursday night when the DJ played a popular new song thanking and praising the military. Three bearded men among the guests got furious and damaged the loudspeakers, sparking a fight with sticks that left seven people injured and led to the non-Islamist guests closing off a nearby highway for several hours, security officials in Qena said.
Under the crackdown, pro-Morsi protests have been smaller in recent weeks. Still, the Brotherhood has remained able to rally its base to the streets.
Many of Friday's protesters raised yellow signs depicting "four fingers," the symbol commemorating Rabaah el-Adawiya, the name of a Brotherhood-organized protest encampment that security forces violently broke up last month. The attack sparked several days of violence that killed more than 1,000 people, most of them Morsi supporters.
On Friday, two people were killed during clashes between protesters and anti-Brotherhood residents in the Mediterranean port cities of Alexandria and Damietta, security officials said, speaking on condition of anonymity because they were not authorized to talk to the press.
Pro-military protesters took to the streets in several Cairo neighborhoods, cheering the army chief and denouncing Thursday's car bombing against the interior minister's convoy.
Interior Minister Mohammed Ibrahim, who heads the police forces carrying out the crackdown, narrowly escaped the blast, but 22 police and civilians were wounded. Health Ministry official Ahmed el-Ansari said one of the wounded civilians died of his wounds on Friday.