Restaurant explosion in Canada injures at least 15; search for suspects underway
NEWYou can now listen to Fox News articles!
Police were searching for two suspects in connection with an explosion caused by an "improvised explosive device" that ripped through an Indian restaurant in a Toronto suburb that wounded 15 people, three of them critically.
Peel Region police said the hooded male suspects entered the Bombay Bhel restaurant in Mississauga, Ontario, planted the device and left without confronting anyone inside.
"We have no indication to call it a hate crime or any kind of terrorism act," Sgt. Matt Bertram said. "Nothing was said by these individuals. It appears they just went in, dropped off this device, and took off right away."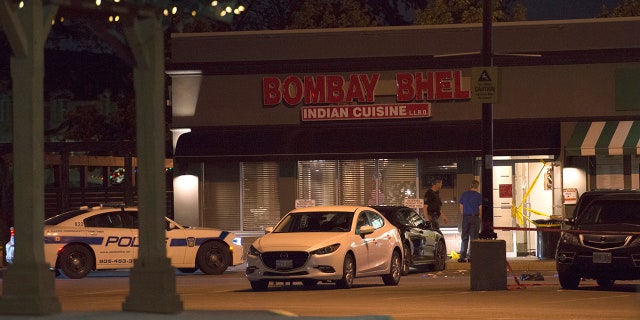 Peel Region paramedic Joe Korstanje said three people suffered critical injuries from the blast and were taken to a hospital while the remaining 12 victims suffered what he described as minor and superficial injuries.
The blast occurred just after 10:30 p.m. local time, and the mall where the restaurant is located remained sealed off early Friday morning.
Police said they were uncertain what kind of device caused the explosion, where the blast originated or how many people were inside the restaurant at the time.
Police have described the suspects' description and asked the public's help in identifying them.
The first suspect is described as in his mid-20s, 5-foot-10 to 6-feet with a stocky build, wearing dark blue jeans, a dark zip-up hoodie and a baseball cap with a light gray peak.The second suspect is described as a little shorter with a thin build, wearing faded blue jeans, a dark zip-up hoodie pulled over his head, gray T-shirt and dark colored skate shoes.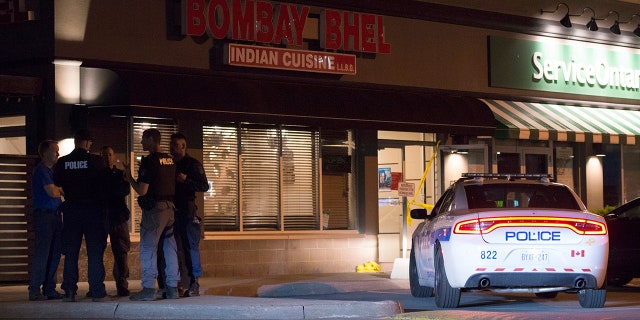 "Different callers called in and said it was firecrackers or some said gunshot sort of noises," Bertram said. "I don't think it was an explosion that was rocking anything. Until we can get in there and analyze the material after the search warrant we won't be able to say what it was."
Andre Larrivee, who was watching television in his nearby condo, called the explosion "really loud," likening it to the noise of a recent electric generator blast at a construction site.
Rafael Concaceicao, a student from Sao Paulo, Brazil, was at a nearby restaurant when he heard "screaming" and rushed to help.
"Glass was broken in the street," he told the CBC. "There was a child's birthday party. Everything was destroyed. Lots of blood in the floor. Many people were screaming. They were trying to run out from the restaurant. There was a guy with glass inside his eyes. Many people were bleeding so much."
The Indian consulate in Toronto tweeted it had opened a helpline for those seeking assistance following the explosion. Vikas Swarup, India's High Commissioner to Canada, tweeted that India's Consul General in Toronto visited the injured in the hospital. He also said that the three Indian-Canadians who were reported to be critically injured are stable.
The Associated Press contributed to this report.