Reporter's notebook: Bush 41 played crucial role in Cold War's end and new German beginning
One of President George H. W. Bush's biggest accomplishments was presiding over the peaceful end of the Cold War
With his background in politics, diplomacy, military, intelligence and as vice president at the side of President Reagan there was probably no one better equipped for the job.
As a reporter, I was there at the fall of the Berlin Wall, the upheaval in eastern Europe, and former Soviet Union. I heard the enthusiasm for change and for the support of the US and President Bush. I heard frustration, too, that he wasn't doing even more.
But as analysts now point out, while President Bush talked about "the winds of change," he also talked about "helping people help themselves."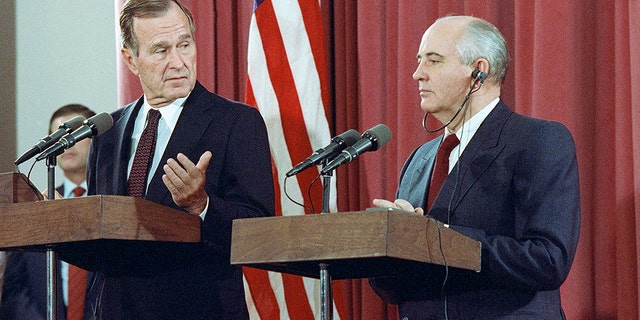 In a statement Saturday, former Soviet President Mikhail Gorbachev said: "We happened to work together in years of great changes. …The result was the end of the Cold War and the nuclear arms race…He was a genuine partner."
He was, in fact, ahead of other western leaders.  Many were wary of a united Germany, but President Bush helped a new Germany be a part of NATO and the European Union.
Meeting with President Trump in Buenos Aires, German Chancellor Angela Merkel said (in a rare public use of English),  "I was with Chancellor Kohl in the White House, visiting with George Bush.  And he is the father, or one of the fathers, of German reunification and we will never forget that."
And French President Emmanuel Macron tweeted, "He was a world leader, who strongly supported the alliance with Europe."
We saw President Bush in Berlin in 1989 on the 20th anniversary of the fall of the Wall.  On that day he said,  "The wall can never erase your dreams."
He helped a lot of folks to dream, in Europe and around the world.