Reported Clashes Between Syrian Army Units Over Crackdown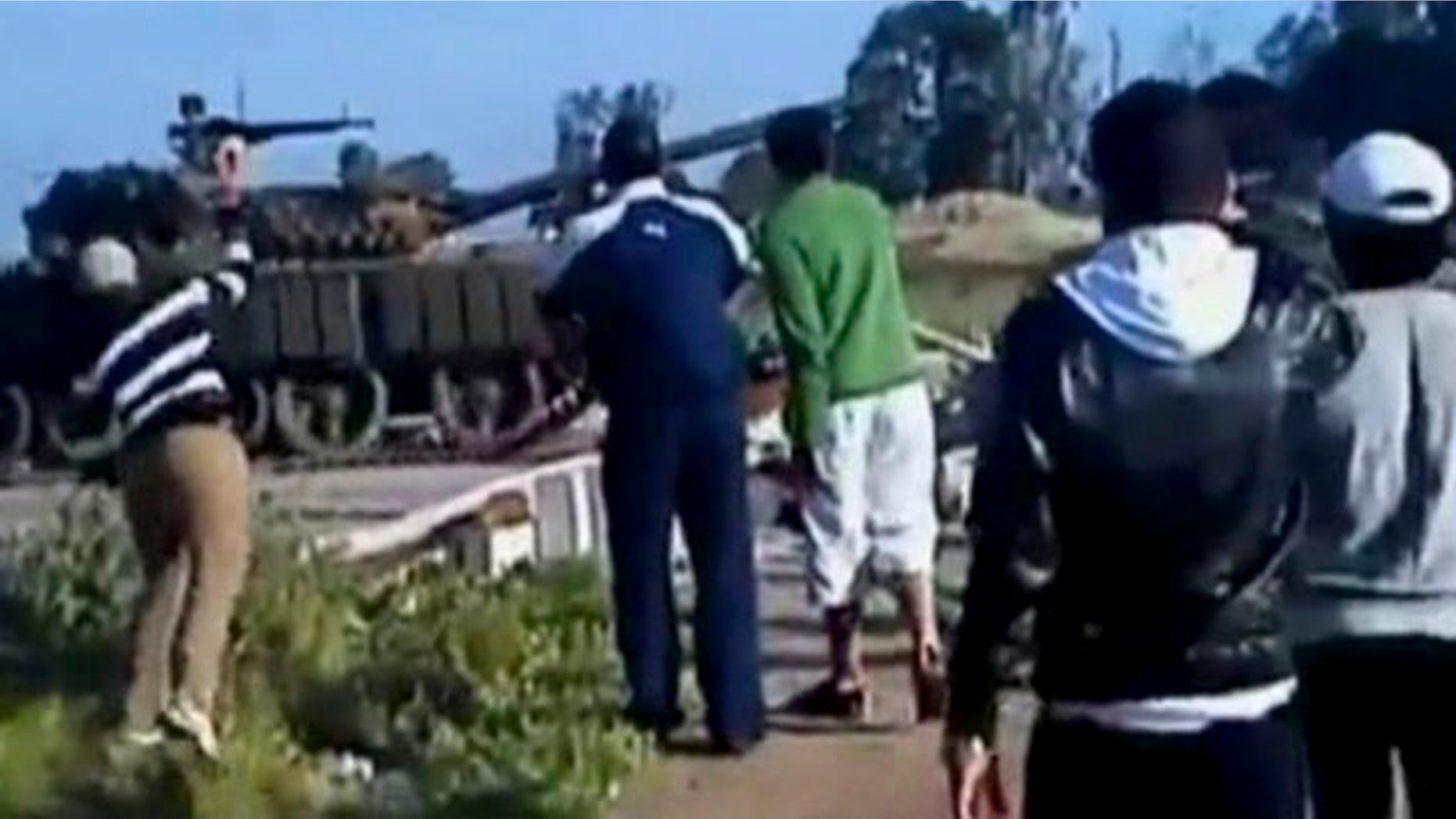 BEIRUT – Members of Syrian army units have clashed with each other over carrying out President Bashar Assad's orders to crack down on protesters in the southern city of Daraa, the heart of the uprising, a witness and human rights groups said Thursday.
More than 500 people have been killed across Syria -- about 100 in Daraa alone -- since the popular revolt against Assad began in mid-March, according to human rights groups.
While the infighting in Daraa does not indicate any decisive splits in the military, it is significant because Assad's army always has been seen as a bastion of support for the regime. The Syrian military has denied that there had been any splits in the military.
On Thursday, more soldiers in armored personnel carriers rolled into Daraa, where residents huddled inside homes in fear amid the blasts of mortars and heavy gunfire, as well as snipers on high rooftops and mosques, a resident said by satellite telephone. Like other witnesses in Syria, he spoke on condition of anonymity for fear of government retaliation.
Ausama Monajed, a spokesman for a group of opposition figures in Syria and abroad, said the clashes among the soldiers have occurred since Assad sent the army into Daraa on Monday. The deployment was a clear escalation in his crackdown on the uprising.
"There are some battalions that refused to open fire on the people," Monajed told The Associated Press, citing witnesses on the ground in Daraa. "Battalions of the 5th Division were protecting people, and returned fire when they were subjected to attacks by the 4th Division."
The 4th division is run by the president's brother, Maher.
The reports were corroborated by three witnesses in Daraa and an activist contacted by the AP. All four asked that their names not be used for fear of reprisals.
A witness in Daraa told the AP that he saw soldiers from different army units clashing Monday in front of the Bilal mosque in central Daraa, when Syrian forces rolled into town. He said the battle between the forces lasted for several hours.
"We saw ordinary soldiers fall," the resident said. "And then I heard people shout "God is great! They are martyrs of freedom!"
Syria has banned nearly all foreign media and restricted access to trouble spots since the uprising began, making it almost impossible to verify the dramatic events shaking one of the most authoritarian, anti-Western regimes in the Arab world.
The government has blamed armed thugs and a foreign conspiracy for the unrest, not true reform seekers.
State-run Syrian TV has run running lingering, gruesome close-ups of dead soldiers, their eyes blown out and parts of their limbs missing, to back up their claims that they were under attack.
In a further blow to Assad, more than 200 members have quit Syria's ruling Baath Party in the southern province, a human rights activist said.
On Wednesday night, six tanks rolled into the key northern port of Latakia -- in the heartland of Syria's ruling elite -- and security forces opened fire on anti government demonstrators, wounding six, witnesses said.
Unrest in Latakia is significant because the province has strong historical ties to Assad's minority Alawite sect, an offshoot of Shiite Islam. Latakia is home to a diverse mix of religious groups, with mostly Sunni Muslims in the urban core and Alawites in the countryside. At least 14 people died in clashes in the city during the earlier days of the uprising, raising fears that the violence could take on a sectarian tone in coming days or weeks.
Assad has tried to crush the revolt -- the gravest challenge to his family's 40-year ruling dynasty.
In the Damascus suburb of Douma, security forces strengthened their control, fortifying checkpoints on roads into the area and setting up sand barriers, a resident said.
"Security is so tight around Douma that even birds can't go in," he said, adding that security forces with lists of wanted people continued to detain residents in the area.
Troops were using heavy machine guns Thursday in Daraa, said resident Abdullah Abazeid. He added that snipers killed more people and that 43 have died since the military arrived Monday.
The latest deaths include a 6-year-old girl, hit by a sniper Wednesday on the roof of her parents' apartment. He added that pro-government gunmen known as "shabiha" damaged a large numbers of shops in the city.
Abazeid said they were still hiding the bodies of the dead because the cemetery was occupied by Syrian forces belonging to Unit Four, considered the fiercest and most violent of the troops in the town.
The city was still without telephones, electricity and water and lacked food and infant formula, he said, adding that some parents were giving their children water and sugar for lack of powder milk.