Refinery fire in south India kills four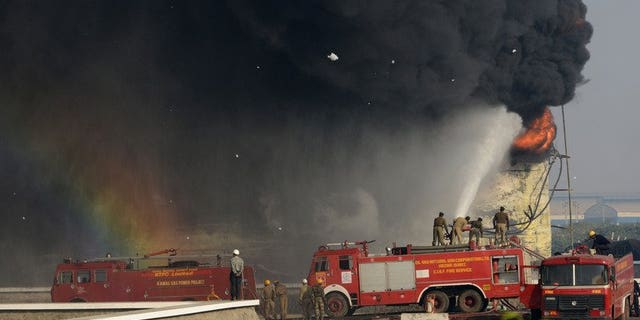 HYDERABAD, India (AFP) – A massive fire broke out Friday at a petroleum refinery in southern India, killing four workers and leaving dozens injured, police said.
Another 11 people were feared trapped at the Hindustan Petroleum Corp refinery in Visakhapatnam, a port city 503 kilometres (313 miles) from Andhra Pradesh state capital Hyderabad, officials added.
"The mishap occurred at a block in the refinery where a new tower is being constructed," city police commissioner B. Sivadhar Reddy told AFP.
"As of now, four workers have been burned to death and about 30 are injured. Some of the injured persons are in critical condition," Reddy said, adding that a short-circuit may have triggered the blaze.
Firefighters were still battling the flames late Friday. Residents in the vicinity of the refinery have been evacuated as a precaution, police said.
N. Satish, a resident of the area, said he had heard what sounded like a big explosion early in the evening.
"I heard a huge sound and saw a lot of smoke billowing out of the refinery. At that time I was nearly seven kilometres (four miles) from the refinery," he told AFP.
Fire and other accidents are common in India's factories because of a lack of safety measures and inspections.
The United Nations' International Labour Organisation (ILO) estimates that nearly 50,000 Indians die from work-related accidents or illness each year.