Ransom demand drops for American missionary; gangs, not Boko Haram suspected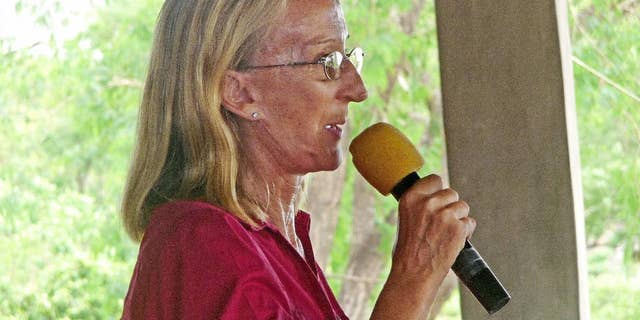 NEWYou can now listen to Fox News articles!
Nigerian kidnappers holding an American missionary reportedly slashed their ransom demand in half Thursday, in yet another sign that they are most likely a small time criminal gang and not the feared Islamist group Boko Haram.
The Rev. Phyllis Sortor, of Seattle, was kidnapped Monday from the Hope Academy compound in Kogi State, in the central region of Nigeria by armed men who demanded a ransom of $300,000 from local authorities for her safe return. That demand was slashed in half according to local reports on Thursday in Nigeria down to about $150,000. While the ransom demands are high, it's a paltry amount for a militant extremist group such as Boko Haram according to experts on the region who spoke to FoxNews.com.
"That's not big money if you are a trans-national jihadist," Mark Schroeder, vice president of Africa Analysis for global intelligence at the global intelligence firm Stratfor, told FoxNews.com. "It could be some local gang desperate for cash. Or presidential elections are coming up and this could have been a quick way for a group to extort money basically for rigging an election."
Kogi State Police Commissioner Adeyemi Ogunjemilusi discouraged Sortor's family and colleagues from negotiating for her release.
"That's not big money if you are a trans-national jihadist,"
"The general concept here is that Americans have money," Ogunjemilusi said. "So they thought that by kidnapping her, they can get money.
"We don't think it's a good idea for the family to negotiate with the abductors on the ransom because we are sure we will find her," he added.
Local police and Nigerian security forces are trying to find Sortor, and the State Department and FBI are working with her employer, the Free Methodist Church, to find her location.
"We are aware of media reports that a U.S. citizen was reported missing in Nigeria," a State Department spokesperson told FoxNews.com. "The welfare of U.S. citizens is one of the Department's highest priorities. In cases where U.S. citizens are confirmed missing, the U.S. embassy works closely with those involved, supporting local authorities in their search efforts, and provide all appropriate consular assistance.We have no further information to share due to privacy considerations."
U.S.-based officials for the Free Methodist Church declined to comment on the situation. According to the church's website, Sortor is the financial administrator for Hope Academy and works with International Child Care Ministries, a child sponsorship program in more than 30 countries. The group recently opened a school for the children of nomadic Fulani herdsmen, who are Muslim.
Police were told by another Free Methodist Church pastor, Jacob Ahiaba, that Sortor went out on Monday morning to attend a meeting to try to acquire more land for a farm project and returned around 10 a.m. and was abducted shortly after by five armed men.
The Kogi State, near the confluence of the Niger and Benue rivers, is typically not known for militant activity, unlike the northern part of the country where the infamous Islamist terror group Boko Haram has spent the past few years unleashing terror on citizens living in the northeastern Borno State near the borders of Chad and Cameroon.
"This [Kogi State] is one of the areas that's in between in terms of militant activity," Schroeder said. "There is some activity in the south near the Niger Delta but that is very small compared to Boko Haram's activity in the north.
"We haven't seen meaningful Boko Haram operations in this area," he said. Reaching down to this region doesn't make sense for them."