Queen Elizabeth II's 86th birthday marked with gun salutes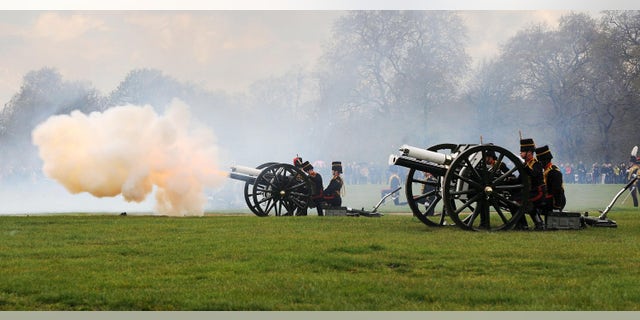 LONDON -- Britain marked Queen Elizabeth's 86th birthday Saturday with a 62-gun salute at the Tower of London.
The monarch celebrated her birthday privately with family at Windsor Castle, while the Royal Gibraltar Regiment saluted her in front of hundreds of onlookers at the royal palace.
The regiment, based in Gibraltar, the British territory on the southern Spanish coast, traveled to London to undertake the ceremonial duties.
Officers from King's Troop Royal Horse Artillery, a ceremonial unit of the British Army, fired a 41-gun salute in Hyde Park, while a 21-gun salute rang out in Windsor Great Park.
Gun salutes also were fired at military bases across the country to mark the occasion.
While the queen was born April 21, she has an official birthday in June, which is publicly celebrated with the Trooping the Colour military parade in London.
This summer's celebrations will be particularly eventful for the monarch, as she will also celebrate her Diamond Jubilee. She is set to mark her 60 years on the throne with a tour of Britain and will open the Olympic Games on July 27.