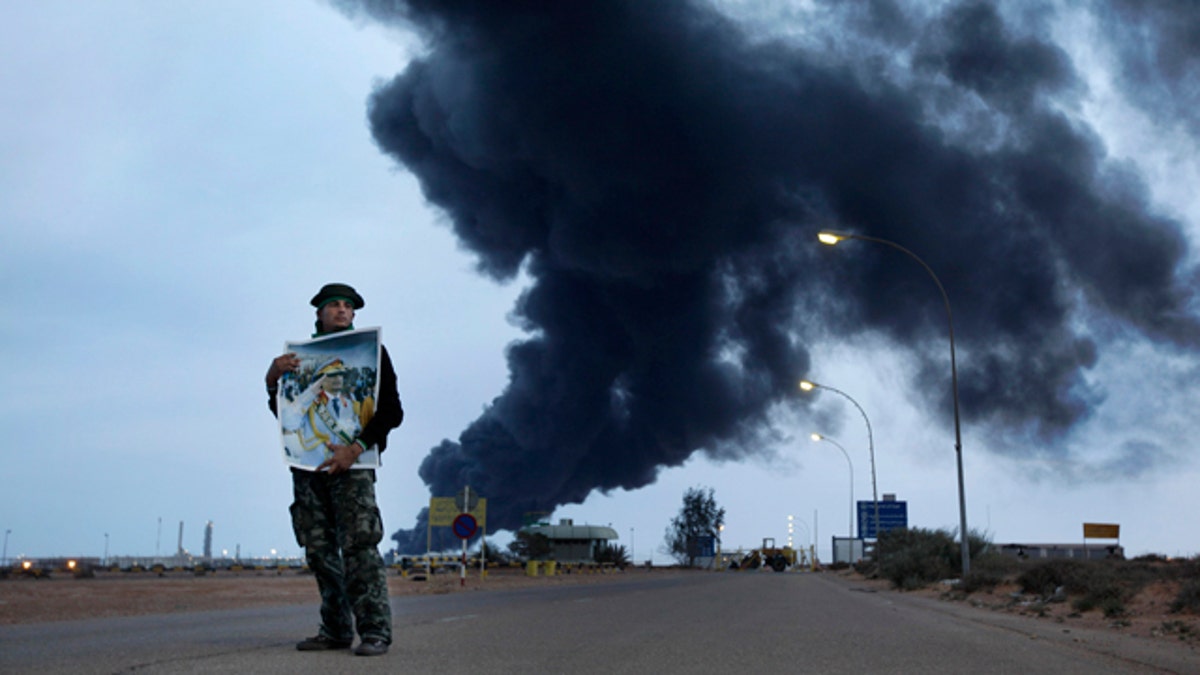 TOBRUK, Libya -- Muammar Qaddafi's warplanes bombed a strategic opposition-held city Monday as his forces tried to push ahead in an offensive to retake the rebel-held east. France and Britain hiked up pressure for the West to impose a no-fly zone that rebels have sought to bolster their cause.
Fighting was centered in the oil port of Brega, where government forces swept in on Sunday, pounding rebels with strikes from warships, tanks and warplanes. Rebels were dislodged from the port during the day, but said they moved back in at nightfall, destroying armored vehicles and capturing dozens of fighters from Qaddafi's elite Khamis Brigade.
Rebel officials said that as of Monday morning, the opposition still held the port, 450 miles southeast of Tripoli.
Qaddafi's troops have been emboldened by some victories as they try to push east along Libya's main Mediterranean coastal highway. But their supply lines are stretched and their dependence on artillery, airstrikes and naval attacks makes it hard for them to swiftly consolidate control of territory, particularly at night.
For the past week, the two sides have been battling for control over two little-populated oil ports, Brega and Ras Lanouf -- which Qaddafi's forces captured days ago. But even if government troops take Brega as well, they may face even tougher resistance if they try to move further east, on the heavily populated cities that the opposition holds. The first of those cities is Ajdabiya, about 30 miles east of Brega.
Warplanes struck three targets in Ajdabia on Monday morning -- one just missing the main opposition weapons warehouse and another that struck rebel fighters massed at the western entrance of the city, said a doctor at an Ajdabiya hospital. Six fighters were wounded, he said, speaking on condition of anonymity for fear of retaliation from Qaddafi's regime. The third strike hit the compound of a Turkish company in the city, he said.
Ahmed al-Zwei, a rebel official on the city's council, said it appeared the warplanes were trying to cut supplies to the rebels holding Brega.
The doctor, receiving reports from fighters returning from the front, said the rebels on Sunday initially fled Brega in the face of bombardment, but then pushed back in later in the day, battling Qaddafi troops who arrived by sea. The rebels retook the area and even pushed a little further west, he said. The doctor, echoing other rebels, said Qaddafi's forces appeared to be short on troops, meaning they could not hold ground they had forced the rebels from.
"They can't advance by land. They know that," he said.
The regime forces' most effective weapon so far appears to have been use of overwhelming bombardment -- mainly by artillery, tanks and rockets, as well as with warplanes, hitting the poorly organized rebels trying to move in a desert region with little cover. The opposition has been pleading with the West to impose a no-fly zone to remove at least part of that threat and help even the odds. But for weeks, Western nations have been divided and hesitant on the move.
France and Britain were making an accelerated push Monday for a no-fly zone as U.S. Secretary of State Hillary Clinton and other top diplomats from the G-8 group of prominent world economies were gathering in Paris for a previously planned foreign ministers meeting.
France, which has angered some allies by offering diplomatic recognition to Libya's opposition, said it is urgent to act against "barbarity" by Qaddafi's forces.
In Britain, Foreign Secretary William Hague said Libyans will face a "nightmare" if Qaddafi regains control, insisting that the world is "reaching a point of decision" on whether foreign forces will impose a no-fly zone.
The Arab League has backed a no-fly zone, and Hague told BBC Radio Monday that "in cases of great, overwhelming humanitarian need" one could be enforced without a U.N. Security Council resolution.
French Foreign Ministry spokesman Bernard Valero, speaking to The Associated Press, pointed to an "urgency" to act because violence against civilians was increasing in Libya. He said France was also working on a list of sanctions against Qaddafi's regime at the U.N. Security Council.
Other countries, including the United States, have been more cautious.
Hague, who is due to attend the foreign ministers meeting, also said he "wouldn't exclude" amending a ban on arms exports to Libya so that weapons could be shipped to the rebels -- but that talks with allies on that are needed.
The rebels fighting to oust Qaddafi from power after more than 41 years were inspired by protesters who toppled authoritarian rulers in neighboring Tunisia and Egypt. A week ago they held the entire eastern half of the country and were charging toward the capital, Tripoli. They also held several key cities in the west of the country, close to the capital, Tripoli.
Then Qaddafi's troops began reversing those early gains with superior weaponry and firepower from the air. Last week, they retook Zawiya, the closest rebel-held city to Tripoli, only 30 miles west.
On Monday, regime forces were besieging the last remaining significant rebel-held city in the west -- Misrata, Libya's third largest city, 125 miles southeast of Tripoli.
Troops on the city's outskirts and on ships off shore had sealed the city, cutting off water pipes and preventing water tankers from reaching the residents, said a local doctor. Residents were conserving existing water and food supplies, he said.
Opposition fighters were building sandbag fortifications and other defenses in anticipation that Qaddafi troops, positioned at an air base and military college about six miles from the city could launch an assault.
However, there were reports that infighting had broken out among the pro-regime forces. Several rebels said it appeared that some units in the besieging force had refused to attack the city. They said gunbattles had broken out among the government troops and that the rebels themselves were not engaging the troops, instead digging in at their positions.
"There are divisions inside the (pro-Qaddafi) militia," said one rebel fighter, citing reports from fellow fighters closest to the government troops. "Some of the forces don't want to enter the town and attack civilians. Others want to attack the city, Others want to join the rebels. Those wanting to attack the town are attacking the refuseniks."
The report of divisions could not be independently confirmed.