Qaddafi Says He is Hidden Where Bombs Cannot Reach Him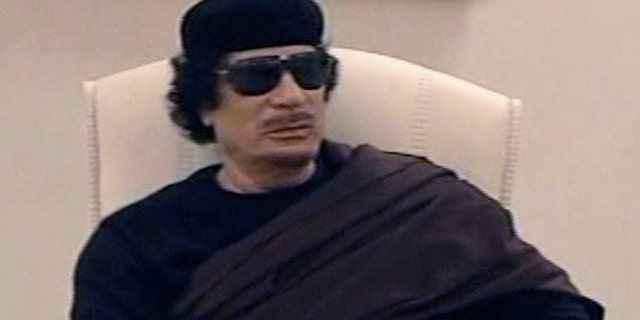 TRIPOLI, Libya – TRIPOLI, Libya -- Taunting NATO, Muammar al-Qaddafi said Friday that he is alive despite a series of airstrikes and "in a place where you can't get to and kill me." The defiant audio recording was broadcast after the Libyan government accused NATO of killing 11 Muslim clerics with an airstrike on a disputed eastern oil town.
Qaddafi had appeared on state TV but had not been heard speaking since a NATO attack on his Tripoli compound two weeks ago, which officials said killed one of his sons and three grandchildren. In a brief recording played Friday on Libyan TV, Qaddafi said he wanted to assure Libyans concerned about a strike this week on his compound in Tripoli.
"I tell the coward crusaders -- I live in a place where you can't get to and kill me," he said. "I live in the hearts of millions."
He referred to a NATO airstrike on Thursday that targeted his Bab al-Aziziya compound in Tripoli, claiming it had killed "three innocent journalist-civilians."
Hours after Qaddafi's minute-long speech, the sound of four explosions -- most likely a NATO strike -- could be heard in Tripoli early Friday.
Also in the Libyan capital, a local activist said Saturday that he witnessed some 50-60 residents attacking military trucks in the western neighborhood of Abu Sitta.
He said the events took place in the late evening on Friday. The physican-turned-activist said the residents burnt down a military truck.
"Everybody escaped after some cheering," the activist said.
The activist's statements could not be independently confirmed.
Government spokesman Ibrahim Uthman said the strikes targeted the country's Agriculture Ministry. The same building, however, was targeted days ago and, at the time, residents said it was a government intelligence building.
Reporters could not immediately verify the information. They may only to leave their hotel in the company of government officials.
On Thursday reporters were shown the airstrike damage by Libyan officials, including one who said Qaddafi and his family had moved away from the compound some time ago. One missile appeared to have targeted some sort of underground bunker at the compound -- a sprawling complex of buildings surrounded by towering concrete blast walls
Many people "driven by their love for me put in many calls to check on my well-being after they heard of the cowardly missile attack of the crusaders on Bab al-Aziziya last Thursday, May 12," Qaddafi said in the recording, which lasted just over a minute.
NATO shrugged off the statement.
"We are not targeting him, our targets are solely military," alliance spokeswoman Carmen Romero said in Brussels.
Shortly before Qaddafi's remarks were broadcast, regime spokesman Moussa Ibrahim claimed that NATO had attacked Brega while dozens of imams and officials from around Libya were gathered there to pray for peace. Ibrahim said 11 imams were killed in their sleep at a guesthouse, and 50 people were wounded, including five in critical condition.
One of the slain men was wearing beige military clothing.
The alliance, responding to the claim, said it had attacked a military command-and-control center in Brega, 450 miles southeast of Tripoli.
"We're very careful in the selection of our targets and this one was very clearly identified as a command center," said an official at NATO's operational headquarters in Naples, Italy, who spoke under the alliance's rules that he could not be named.
NATO has been intensifying airstrikes in several areas of Libya against Qaddafi's troops in a bid to weaken his campaign against a rebel uprising. The sound of two airstrikes could be heard in Tripoli early Friday, though it was not immediately clear what they targeted.
Ibrahim rebutted comments from Italy's foreign minister, Franco Frattini, suggesting that Qaddafi may have been wounded and possibly had fled Tripoli for some other place in Libya.
"The leader is in very good health, high morale and high spirits," Ibrahim said. "He is in Tripoli, he is fighting... He is leading the country day by day."
Imams accompanying Ibrahim when he announced the Brega attack said the slain clerics should be avenged.
"We call upon Muslims all around the world to take revenge for our brothers," said imam Noureddin el-Mashrab. "For every man, he should take down 1,000 men."
Government officials said el-Mashrab's statements did not reflect official policy. But el-Mashrab spoke at a government-sponsored event with the help of a government translator, suggesting Libyan officials wanted to show the consequences of further attacks -- out-of-control violence against citizens of NATO countries.
State-run Libyan television showed a concrete building in Brega with its facade blown off. Nearby houses also were damaged, and some of them were tipped off foundations. Upper stories were blown off other nearby buildings.
The bodies of many of the dead imams were laid out in two rows. Most had visible wounds, often to the head but also to legs and other extremities. Some were covered with dust scattered by the explosions.
"NATO proves that it doesn't have a moral center," Ibrahim said, speaking at a news conference in the square of the 600-year-old Mawlay Mohammed mosque in Tripoli.
"Now they are moving to kill imams, religious leaders who are calling for peace."
Ali Abou el-Sowa, one of the imams with Ibrahim, referred to Usama bin Laden, the al-Qaida leader killed in a U.S. raid in Pakistan last week.
"I would like to remind my brothers ... how Usama bin Laden came into existence," el-Sowa said. "He was reacting to the extremist actions by the West against Islam. We do not think al-Qaida is justifiable, but we would like to remind you that hatred begets hatred."
The strike on Brega came as Qaddafi faced mounting diplomatic pressure to end his 42-year hold on power.
In the Hague, Netherlands, the prosecutor of the International Criminal Court said he would seek arrest warrants on Monday for three senior Libyan leaders for murder and persecution -- with Qaddafi expected to be among them.
And in Washington, the White House says the U.S. and NATO will maintain their military operations in Libya as long as Qaddafi continues to attack his own people. The U.S. has been increasing its financial support for the rebels, but is not recognizing their transitional council as Libya's legitimate government.
A delegation from the council was meeting with U.S. officials in Washington on Friday.
NATO reported Friday it had carried out 52 missions across Libya the previous day. Qaddafi's fortified compound in the capital was among the targets, and the alliance identified others as anti-aircraft missile launchers near Tripoli and buildings and gun emplacements being used by regime forces in their siege of the rebel-held port city of Misrata.
The rebels control most of eastern Libya, while Qaddafi controls most of the west, including Tripoli. Misrata -- about 125 miles southeast of Tripoli -- is the only rebel stronghold in the west. Local doctors say more than 1,000 of its residents have been killed in the fighting and shelling during the siege by Qaddafi's forces, but NATO said the city experienced a day free of shelling on Thursday after several days of outward advances by rebel fighters.