Putin stresses right to use force in Ukraine amid deadly clashes at base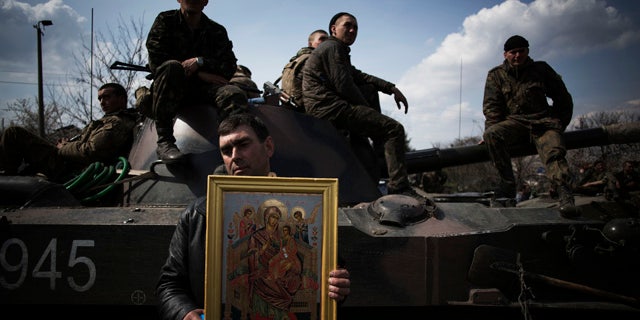 Russian President Vladimir Putin reportedly stressed his right to send Russian troops into eastern Ukraine, but rejected claims that Russian special forces are fomenting unrest in the region.
According to The New York Times, Putin emphasized that Russian Parliament's upper chamber had authorized him to use military force if necessary, and stressed Russia's historical claim to the territory, repeatedly referring to it as "new Russia."
Meanwhile, top diplomats from the United States, European Union, Russia and Ukraine reached an agreement after marathon talks Thursday on immediate steps to ease the crisis in Ukraine.
The tentative agreement puts on hold additional economic sanctions the West had prepared to impose on Russia if the talks were fruitless. After seven hours of negotiation in Geneva, all sides agreed to refrain from violence, intimidation or provocative actions. The agreement calls for the disarming of all illegally armed groups and for control of buildings seized by pro-Russian separatists to be turned back to authorities.
It also gives amnesty to protesters who comply with the demands, except those found guilty of capital crimes.
U.S. Secretary of State John Kerry called the deal the result of a "good day's work" but emphasized that the words on paper must be followed by concrete actions. He said he had warned Russian Foreign Minister Sergey Lavrov that Moscow would soon feel the brunt of new sanctions should it not follow through on its commitments under the agreement.
The agreement comes after Putin recognized for the first time that the troops in unmarked uniforms who had overtaken Ukraine's Crimean Peninsula before its annexation by Moscow were Russian soldiers.
Putin, who previously said the troops were local self-defense forces, said the Russian soldiers' presence was necessary to protect the local population from armed radicals and to ensure the holding of a referendum, in which an overwhelming majority of its residents voted for seceding from Ukraine and joining Russia.
"Our servicemen stood behind the back of Crimea's self-defense forces," Putin said. "They acted politely, but resolutely and professionally. There was no other way to hold the referendum in an open, honest and honorable way and allow the people to express their opinion."
Putin insisted that protests in the east of Ukraine only involve locals. He said that he told his Western counterparts that only local residents are involved in the protests in the east, and "they have nowhere else to go, they are masters of their land."
Putin had also criticized the U.S. and its European allies for having what he called a double standard concerning Ukraine and said he hoped he wouldn't have to deploy troops to Ukraine.
Putin's comments came as Ukraine's Interior Minister, Arsen Avakov, said three pro-Russian protesters were killed, 13 more were wounded, and 63 were arrested in a confrontation at a military base in the east of the country.
The Wall Street Journal first reported the remarks by Avakov. The incident occurred at a base in the southeastern city of Mariupol, in the Donbass region of the country, approximately 70 miles south of Donetsk.
Earlier, the Journal reported that a group of insurgents had stormed the base late Wednesday as Ukraine's military drive to regain control of the country's east from separatists was stymied by civilians who halted army columns in their tracks and militants who hijacked Ukrainian military vehicles and drove them around with Russian flags.
At Mariupol, the Ukrainian National Guard said the troops there had refused to comply with demands to surrender their weapons and switch sides. Protesters began rushing the gates and throwing Molotov cocktails, according to the National Guard, and shots were fired.
Speaking in a televised call-in show with the nation Thursday, Putin harshly criticized the West for trying to pull Ukraine into its orbit and said that people in eastern Ukraine have risen against the authorities in Kiev, who ignored their rights and legitimate demands.
"It's all nonsense, there are no special units, special forces or instructors in the east of Ukraine," Putin said.
Edward Snowden, the former NSA contractor who leaked details of U.S. intelligence eavesdropping, asked Putin a question during the televised call-in show, Reuters reported.
According to the report, this exchange was the first known direct contact between Snowden and Putin since Russia granted Snowden asylum last summer.
Snowden reportedly submitted his question in a video clip and it was not immediately clear if he was speaking live or if it had been recorded earlier.
"Does Russia intercept, store or analyze, in any way, the communications of millions of individuals?" Snowden said, also asking whether Putin thinks improving the effectiveness of investigations justifies "placing societies .. under surveillance."
Putin, who was a spy during Soviet rule, said: "You are an ex-agent. I used to have ties to intelligence."
According to Reuters, Putin said Russia regulates communications as part of criminal probes, but "on a massive scale, on an uncontrolled scale we certainly do not allow this and I hope we will never allow it."
Putin said authorities need consent from a court to conduct such surveillance on a specific individual, Reuters reported.
Russia has demanded that the new government in Kiev, which replaced the ousted pro-Russian President Viktor Yanukovych. Yanukovych fled to Russia following protests over his decision to spike a pact with the EU in favor of closer ties with Russia, a move designed to transform the country into a loose federation. Ukraine has rejected the demand, but promised to give the regions more powers.
Defense Secretary Chuck Hagel announced Thursday that the U.S. will send more non-lethal military aid to Ukraine.
Hagel, speaking at a press conference at the Pentagon with his Polish counterpart, said the approved aid would include medical supplies, helmets, sleeping mats, water purification units and small power generators.
Click for more from The Wall Street Journal
The Associated Press contributed to this report.