Putin says he may face runoff in Russia's election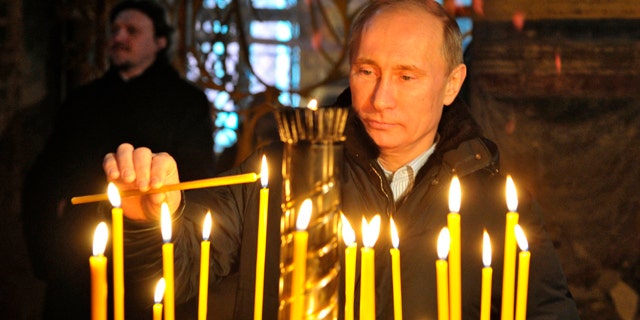 MOSCOW – Prime Minister Vladimir Putin says he could face a runoff in Russia's presidential vote in March -- his first acknowledgment that he may fail to muster enough support for an outright victory.
Putin's statement Wednesday signaled that he might be willing to accept a less dominating father-of-the nation image if he fails to win more than 50 percent in the first round on March 4, rather than risk igniting more public outrage through blatant vote rigging.
Evidence of fraud in favor of Putin's party in December's parliamentary election triggered the largest protests since the Soviet collapse two decades ago.
Putin said at a meeting with election monitors that "there is nothing horrible" about a runoff and he's ready for one, according to Russian news reports.
But he also warned of the dangers of a second round, saying it would lead to a "certain destabilization of the political situation." The need for stability in Russia has been the mantra of Putin's campaign.
Putin won his previous two presidential terms in 2000 and 2004 in the first round. After moving into the prime minister's job due to term limits, he has remained Russia's top political figure, but has seen his support dwindle amid growing public frustration with his rigid controls over the political scene, rampant corruption and rising social inequality.
Opinion polls show support for Putin running between 40 and 50 percent. If he fails to get a majority of the vote, he will face a runoff on March 25, most likely against Communist Party leader Gennady Zyuganov.
Putin announced his bid to reclaim the presidency in September and said he would then name Dmitry Medvedev, his protege and successor as president, as his prime minister. That job swap was seen as a show of cynical disrespect for the values of democracy, fueling public anger that spilled into heated December protests.
Putin initially played down the street rallies and derided the participants as U.S. puppets working to undermine Russia. He later took a more conciliatory stance, in an apparent effort to split the opposition.
He promised Wednesday to give government jobs to some of his political opponents if he is elected.
Putin also instructed vote monitors to ensure strict observance of election rules. He previously has ordered that web cameras be installed in all polling stations in an effort to fend off opposition claims of persistent vote rigging.