Putin denies he stole Super Bowl ring from New England Patriots owner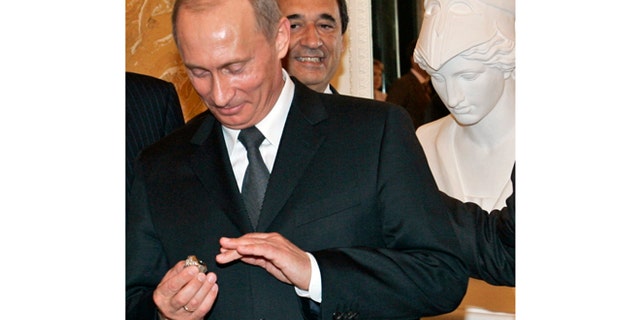 Russian President Vladimir Putin says he did not swipe New England Patriots owner Robert Kraft's Super Bowl ring, but Putin's spokesman said the Russian leader will reimburse him with another ring.
Kraft said at the Carnegie Hall's Medal of Excellence gala in New York on Thursday that Putin took the 124-diamond ring -- valued at $25,000 -- during a 2005 meeting in St. Petersburg.
"I took out the ring and showed it to [Putin], and he put it on and he goes, 'I can kill someone with this ring," Kraft said, according to the New York Post. "I put my hand out and he put it in his pocket, and three KGB guys got around him and walked out."
Kraft's new version of the story differs from the one he gave eight years ago when he claimed he handed the ring over as a gift.
Kraft said at the time he hadn't meant to give the ring away, but said the White House urged him to treat it as a gift in the interest of international diplomacy, according to the New York Post.
But when he resurrected his objections, starting a new firestorm, Putin spokesman Dmitry Peskov said his boss will make things right.
"At the same time, I am aware that this gentleman (Kraft) is feeling such a horrible pain about the 2005 loss," Peskov said in London on Sunday, where Putin met with British Prime Minister David Cameron. "The president will be ready to send him another ring as a gift, which he (Putin) can buy with his own money."
Peskov reiterated Sunday that Kraft gave the ring willingly and witnessed the presentation with his own eyes. He dismissed Kraft's story as "weird."
"Back in 2005, I stood behind the president's back and I saw how that ring was presented to him," Peskov told The Associated Press. "All that talk about some kind of pressure that was exerted on him (Kraft) should be the subject of a detailed talk with psychoanalysts, I think."
The Super Bowl ring is now on display in the Kremlin library along with other gifts to Putin, according to Peskov.
Stacey James, a spokesperson for the Kraft Group, the holding company for Kraft's business ventures, including the Patriots, said Sunday that the Post article shouldn't be taken too seriously.
"It's a humorous, anecdotal story that Robert retells for laughs," James said in a statement. "He loves that his ring is at the Kremlin, and, as he stated back in 2005, he continues to have great respect for Russia and the leadership of President Putin. In particular, he credits President Putin for modernizing the Russian economy."
Kraft can take some consolation because he has two other Super Bowl rings given to him for his team's other NFL championships.
The Associated Press contributed to this report.